Book Reviews - Portrait of a Jesuit sanyasi
by Luis S. R. Vas
Anthony de Mello SJ The Happy Wanderer, Author: Bill de Mello, Published By: Gujarat Sahitya Prakash, Pages : 334, INR 240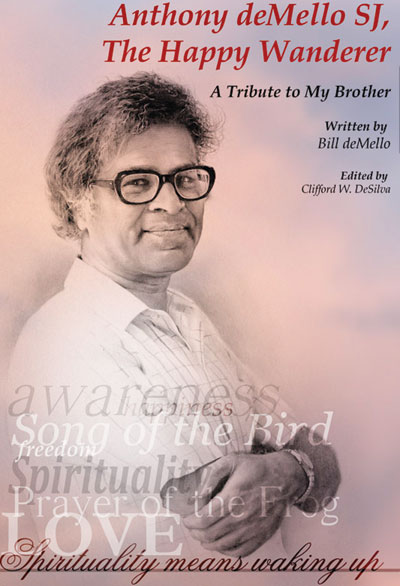 Until his sudden death in New York, 25 years ago, Fr. Anthony de Mello, a Jesuit priest, was the director of the Sadhana Institute of Pastoral Counselling in Lonavla. For a Catholic priest he was remarkably open and actively explored and advocated Indian spiritual practices such as meditation. Author of best-selling books such as Sadhana and Awareness, renowned worldwide for his workshops, retreats, and prayer courses, he aimed simply to teach people how to pray, how to wake up and how to live.

Thousands of people who attended Fr. Tony's workshops and the thousands more who did not attend but read his books must want to know more about the man.

His brother, Bill de Mello, provides them with this opportunity.

It is a remarkable job, particularly for someone who has no intrinsic interest in counselling, Jesuits, and philosophers like Krishnamurti who influenced Tony. Bill has tried to be conciliatory towards everyone involved, without exception. His overriding concern is to get the facts right and not to pass judgment on anyone. As Tony's younger brother, he is well equipped to provide the family background and atmosphere, and does so most self-effacingly. He was also the last person to see Tony before he died. Tony had had a full medical check-up before leaving India. So we can discount rumours that he was careless about his health. Friends, colleagues, critics are extensively quoted and provide a well-balanced picture of the man.

Some ten years after Tony's death the Vatican issued a notification critical of Tony's writings. Bill analyses the issues involved dispassionately and without rancour. He wonders how books that had been approved by higher authorities as free of doctrinal error could be condemned later on. And he leaves it at that, for others to decide. We end up knowing that we just met a man who will keep growing in stature as time passes.