Book Reviews - Present is a gift
by Neelam Mehta
The Presence Process, Author: Michael Brown(Includes an audio CD -The Art of Presence by Eckhart Tolle), Published By: Jaico Publishing House,Pages: 303, Rs 295.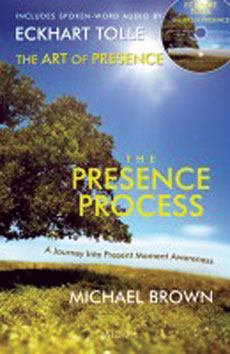 The Presence Process is a well-meaning guide to liberation from our subconscious drivers. The book combines two powerful concepts – dwelling in the now moment and integrating our disowned past pain to go beyond it. It is because of disavowed hurts from our early years that we keep marking time, like a hamster on a wheel, in repetitive patterns instead of moving forward. Our early-life emotional imprints are not located within us as thoughts, words or concepts but as felt sensations, because these came prior to the faculty of reasoning.

Therefore, no amount of intellectual understanding can help us reason ourselves out of these 'emotional signatures' of the memory. The Presence Process is designed to help us access these un-integrated emotions as felt sensations and this time owning and integrating them instead of suppressing and running away from them. By getting back in touch with suppressed pain buried deep in our unconscious and facing it, we go beyond it and through the gateway to freedom.

The book is divided into five parts – part one and two are a prelude to the presence process, part three consists of the actual process which is a structured programme spread over ten weeks and part four and five enumerate the expected benefits. The book concludes with a recap of the process.

Presence is the most useful tool for awakening from the dream of time. The illusion of the reality of past and future keeps us swinging from one to the other like a pendulum – never letting us abide in awareness of the present moment. Though verbose and repetitive, the structure of the Presence Process is designed to give us a taste of present moment awareness.