Book Reviews - Reports of the unseen
Paranormal Experiences – Beyond the Realms of Reason; Author:Dr Mehra Shrikhande; Published by: Unicorn Books; Pages: 223; Rs. 150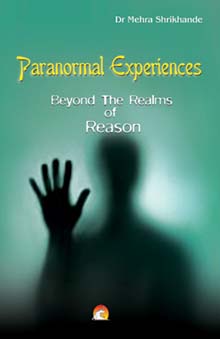 All of us have been intrigued and some of us continue to be intrigued by the paranormal. Brought up in a society where only the five senses are developed, we find it hard to believe events and occurrences that do not have a physical cause. Nonetheless, all such occurrences cannot be ruled out as trickery or environmental anomalies. Many of us have even experienced an apparition or had a premonition.

Dr Shrikhande, an ophthalmologist from Pune, has been recording and researching this topic for a long time now, and this book is the compilation of her work. She starts off with the astral body, describing out-of-body and near-death experiences. She also touches on remote viewing, where by projecting oneself astrally, information about distant objects or circumstances can be obtained. During World War II and the cold war, remote viewing was highly researched and practised by many governments. She goes on to give many examples of ghosts and apparitions, having both a friendly and an authoritative temperament. Recording such beings through photography or through audio recording has been explored but remains highly controversial. Spiritualism, the invoking of spirits through Ouija boards, planchettes or through a medium is a highly popular though risky route to contact the other side. Reincarnation and past-life regression is definitely fascinating and a few curious ones have looked back into previous lifetimes. Finally, the author writes about extra sensory perception and psycho kinesis as common occurrences, something we can all 'do'.

While these experiences are beyond the scope of contemporary science, they are not beyond reason and rationale. They do require one to question the purpose and nature of life. The numerous examples given in the book did interest me, but left me without a satisfactory explanation and means to experience them myself.