Book Reviews - Revisiting Osho
by T. A. Basubramanian
Osho is not a person whosoever, Published By: Osho Dhyan Leela Foundation, Pages : 190 Pages, Paperback, Price : INR 333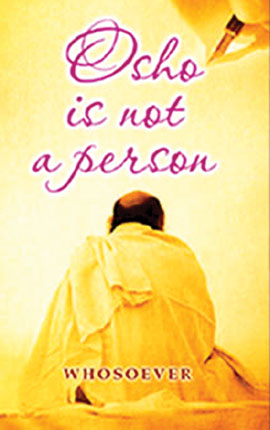 I am not a person, i am a presence" (whosoever) Obsession with identity – or the many creative ploys to be free of it – are a favourite theme of spiritual teaching, and Osho's teachings are full of stories relating to this singular theme.

The identity of 'whosoever' (with a lower case initial) is described as the adopted name of an Osho disciple – his original name was Jivandas, and it was later changed to Harish Chander. So 'osho is not a person' is the emphatic reference in the book's title to the theme of non-identification with any personality – not even Osho – and a clue to the guiding principle that he represents.

The book – composed almost entirely in lower case to emphasise the demotion of identity – is a selected collection of correspondence between Osho's curious followers, and the identity-less 'whosoever' as he offers advice and supportive guidance. These queries come from the many "friends, aspirants, seekers, lovers and participants of his meditation intensives" from around the world.

Typically, these responses to the anxieties and confusions of people who have had familiarity with Osho's teachings are addressed by what one presumes is an equivalent Osho 'presence' answering as though through the voice of the original guru.

The tone of the responses is chatty and personal, often philosophical or ruminative – for example, to a person who writes as "your disciple" he writes back: "i don't claim anyone as my disciple; never possess anyone; you are not a thing; and even things cannot be possessed." From these exchanges, you get a glimpse of the meandering Socratic dialogues that Osho was associated with. It adds to the trove of literature that Osho's following has generated even after his passing away.