Book Reviews - Sacred silence
by Life Positive
Listening to the Silence; Author: Nan Umrigar; Published by: Yogi Impressions; Pages: 232; Rs.350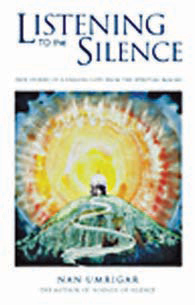 Nan Umrigar's Listening to the Silence is a much-anticipated sequel to her enormously popular book, Sounds of Silence, in which she shares her journey into spirituality via auto writing, in her determination to communicate with her dead son, the champion jockey, Karl Umrigar.

The sequel deals with the stories of the many hundreds for whom Nan's first book was a herald into spirituality. The book wraps itself around the heart of the reader from the first page, drawing you into a world of silent communication with God and the spirit world.

Written with great sincerity, sensitivity and compassion, it speaks to that deep-seated need that lies within each one of us – the need to know that we are not alone, and that God and our departed loved ones watch over us always.

It is an outpouring of the heart that will touch your soul, for it enables you to share a mother's ongoing spiritual journey, which brought her closer to not only The Perfect One, but also countless others who, with her guidance and support, reached out in faith and courage, forging their own connection with the Divine and the spiritual realm.

"May all their stories reach you, awaken you and help you to know, understand and realise that there is so much more to life than just living it. It may also give you the strength to triumph over adversity, evolve on your own path and fulfill your own destiny," she writes with sincere intent.

This is not a quick read. It deserves to be read slowly, every word to be savoured as a gift of Grace. As you read, you will find yourself falling under its spell, cocooned in a space of silence and wonder, where God's presence is keenly felt.

This book touches a deep chord for its message is simple – LOVE. We are all beings of Spirit and are eternally connected through God's love. The path for each person's growth may be different but the destination remains the same – to be closer to Him.