Book Reviews - Saving the world
by Satish Purohit
Final Summit - A quest to find the one principle that will save humanity, Author: Andy Andrews, Published By: Jaico, Pages: 243, Rs 250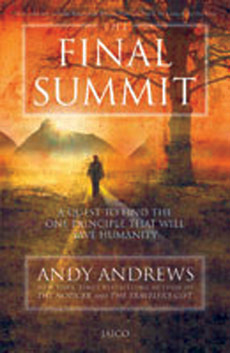 Billionaire David Ponder has been afforded the privilege of time travel. He has, with permission of God Almighty, met some of the greatest achievers that humankind has ever produced. Souls like Mother Teresa, Joan of Arc and Mahatma Gandhi have something to share about the secret of success in its truest sense – a singular achievement that changes the course of history and changes the way men and women think, feel and dream. He builds a business empire from the seven lessons these souls teach him.

Then, in the autumn of his life, he loses the wife he loves and his will to live. As he waits for death, he is visited by Archangel Gabriel who asks him to head a deliberation of all-time travellers.

God wants the all-time travellers to figure 'What does humanity need to do individually and collectively to restore itself to the pathway toward successful civilisation?'

Answers ranging from develop compassion, character and seek wisdom are rejected as being useful but not as the two-word directive that will rescue mankind from the morass it was worked itself into.

As one turns the pages, the reader is entertained and edified by legendary stories of some of the personages assembled at the 'summit'. Churchill smokes his cigar and makes wisecracks and Lincoln shares his wisdom laced with his inimitable wisdom. In the end the delegates do the get the answer right. I am not telling you what it is, of course.

If you enjoyed The Monk Who sold his Ferrari and Richest Man in Babylon, this is a book for you.