Book Reviews - Seek Not And Ye Shall Find
by Neelam Mehta
The Open Secret, Tony Parsons, Published By: Yogi Impressions, Pages: 103, Rs 175

Download PDF Format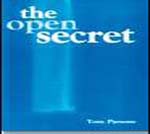 Enlightenment is no secret. It is not a treasure hunt set up for us by the forces that be, to keep us meaningfully engaged through the span of our lives. There is nothing elusive or esoteric about it. Nor is it an exalted goal that all of humanity must strive for. It is simply our natural state of being and therefore something we can never lose. It is that which we are when we are not trying to become that which we are not. This, quite simply, is the thesis of The Open Secret. Its profundity lies in the simplicity of its message and of the language. But the mind, used as it is to complicating, looks for deeper and hidden meanings. It has been conditioned into believing that anything worthwhile cannot be simple – and definitely not easily available.

Tony Parsons' Secret is an elaboration of the classic by Nisargadutta Maharaj, I am that. To seek enlightenment is to miss the point. To toil and strive for it, to practice this or that discipline, to feel the need to deserve it are conditioned responses. As impactful as The Power of Now by Eckhart Tolle, it goes a step further by declaring that you don't even have to practice being here and now to be that which you already are. "In reality we are surrounded by unconditional love, whether we respond to it or not. Our experience in time sets up a perfectly appropriate manifestation, exactly suited in its grand happenings and tiny nuances, to the particular and unique needs of our re-awakening. The source of the hidden principle is ourselves, and it is fired by our longing to come home." (pg.67)

In fact, enlightenment, liberation, fulfilment, freedom, oneness – whatever name you want to call it by, is effortless, immediate, instantaneous and constantly with us. It is available through a mere shift in perspective. The very strife that we hope to attain it by is in its way. The only purpose effortfulness ever serves is that it will tire you out such that you give up out of sheer frustration; and in that moment of giving up, what you seek becomes manifest.