Book Reviews - Seeking the Karmic path
by T. A. Basubramanian
The Search that Seeks You, Author: Sangamithra Amudha, Published By: Random House India, Pages : 225 pages, Paperback, Price : INR 299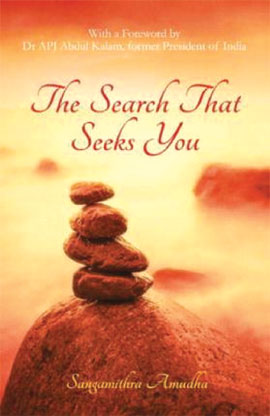 The benefits of meditation and yoga are usually transmitted through practices learned through direct initiation by gurus, but can some of these values be conveyed vividly in the form of an imagined tale?

To those seeking practical insights into the power of meditation and yogic exercises, Sangamithra Amudha presents just such a spiritual guided tour in the form of a story that unfolds engagingly as a series of discoveries. These adventures – interactions with sages and gurus – are encountered and narrated as experiences by a fictional protagonist named Karma – an engineering student. Karma's quest – like that of Prince Siddhartha who eventually became the Buddha – begins when circumstances in his family change suddenly, and he decides to follow the directions he gets in a dream, and leaves home. In the process of travelling to different places, he meets a variety of spiritual teachers. The lessons (in the form of 46 chapters) are narrated from Karma's perspective – but the reader is invited to participate in the journey vicariously by imagining the same situations in his or her own life.

Does the identification work, and do the situations engross one completely? Sangamithra's expectation is that her book will encourage one to think of life in terms of karmic processes – which explains the literal choice of the protagonist's name – and the 'teachers' he encounters en route (Krishna, for example).

The book's likely appeal as a personal guide would vary depending on the life situations (death, sorrow, happiness, change, fear of the unknown) that you may be immersed in at the time of reading it. If you are merely fascinated by meditation and yogic lore and have no experiences in these practices, the stories offer explanations about often misunderstood terms (like samadhi).

As a pointer to understanding and accepting the idea of karma in terms of life changes, Sangamithra's story lessons do provide a broad framework, but ultimately we are all bound to realise that our individual experiential paths are unique and that they are "made by walking" – though "listening to others" may help along the way.

Reader's Comments
Subject:
The search that seeks you.....
- 9 August 2013
This spiritual book by young author Amudha is an amazing way to learn the techniques of Kriya, meditation.thanks for the great review.This will help youngsters like me to understand life n a positive way.The comparison of Prince Siddhartha to Buddha is well received message.The powerful character
More...
by:
Meena