Book Reviews - The courage to stand alone - Self reliance and self discovery
U G Krishnamurti Transcribed & edited by : Ellen J. Crystal, Smriti Books , 126 pages , Rs.150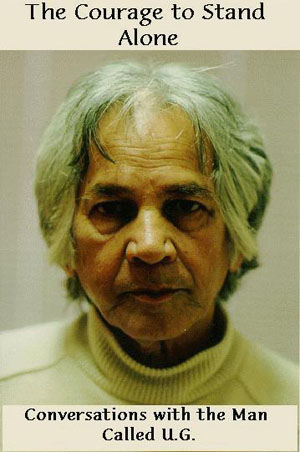 "It is nice of you to come here, but you have come to the wrong place – because you want an answer, and you think that my answer will be your answer. But that is not so. I may have found my answer, but that is not your answer. You have to find out for yourself and by yourself the way in which you are functioning in this world, and that will be your answer."-UG.

These lines encapsulate the entire 'teaching' of UG. If that is so, then why should one read this or any of his other books? And why did he travel and talk all his life? In my opinion the real value of UG's words is in what is left unsaid. The beauty of his expression lies in his ability to negate without being negative. To make you question your 'spiritual' crutches, and to keep looking within. The book under review exemplifies this perfectly. In these transcripts of talks given by UG in Amsterdam in 1982, UG touches upon various topics ranging from God, gurus and greed, to freedom, love and spiritual hunger. The common thread that runs through his observations is his emphasis on self-reliance and enquiry. Some of his observations may come across as self-indulgent and biased, but then he never claimed to be otherwise! In fact, UG never wrote any of his 'books' himself. All his books are transcripts of his talks with friends.

UG does not claim to have any 'spiritual teachings'. In fact, he questions the very idea of transformation. He maintains that there is nothing to be transformed or changed in us. "So, naturally, I do not have any arsenal of meditative techniques or practices!" he asserts. Although there may be no spiritual teaching in the conventional sense, there is undeniably a 'philosophy' in his vast collection of utterances, a philosophy which resists assimilation into established philosophical traditions, Eastern or Western, and one which is certainly worth examining.

UG's approach to problems is to resolve the questions into their constitutive psychological demands. He then shows that these psychological demands are without foundation. Consider, for example, the question of God. UG is not interested in logical arguments for or against God. He simply reinterprets the question into its underlying demand for permanent pleasure or happiness. UG then points out that this demand for permanent happiness is without foundation because there is no such thing as permanence. Further, the psychological demand for permanent happiness has no physiological foundation since the body cannot handle permanence.

The unique feature of this book is the lucid flow of ideas, and the broad spectrum of topics covered in a span of a few pages, unlike the biased emphasis on the subversive 'sound bytes' UG has become known for. The book presents his fundamental ideas in a communicative style. The sense of immediacy and intellectual rigour that he brings to 'spiritual' matters is his unique contribution to this area. The introductory notes by Ellen Crystal, Jeffrey Masson, Hank Schoenville provide a firsthand insight into UG's life and times.

Highly recommended for anyone who wishes to delve deeper into the realm of the human psyche and self-discovery.