Book Reviews - Solace for super moms
by Satish Purohit
Chicken Soup for the Soul - Life Lessons For Busy Moms - 7 ingredients to balance your world, Author: Jack Canfield, Mark Victor Hansen, Dorothy K. Breininger, Debby S. Bitticks, Lynn Benson, Published By: Jaico, Rs 250.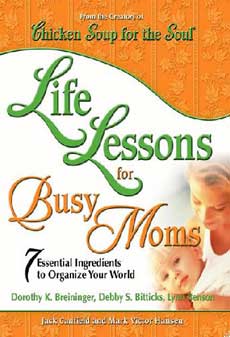 Nothing probably compares with what a mother feels for her child. Unfortunately, however, as a line in the book puts it, for a parent days are long but the years are short and before one knows it, the kids grow up and fly the nest. One longs for the insistent knocks of little fists on oneís bathroom door and it is too late even for regrets. This book promises the wisdom that can help moms balance their busy personal, social and familial lives.

True to their donít-preach-tell-a-good-story tradition this book from the creators of the Chicken Soup for the Soul series shares true stories from the diaries of contemporary mothers that delight, entertain and worm their way straight to the heart. The very first stories remind women to not forget themselves or the gifts that children are in the face of unending demands that motherhood places upon them. Hug those kids, love the man you married, find time to do stuff that really matters to you and is basic to who you are, the stories say.

Take it all up before life robs you of the precious years. Use the wisdom that permeates the short summaries at the close of each section that lists wisdom tips that can be applied by all moms. While there are many stories here that deserve mention, I would list My Pride, My Joy as my favourite. It is the story of how Annette Micek became a nurse like her mother and grandmother thanks to help from her daughter, Ashley, who helped her with chemistry.

Annette had abandoned her dream because everything else had taken a backseat once the kids came. Life continued uneventfully till her daughter egged her on. So, at the age of 50, Annette became a nurse and by doing this honoured the memory of her mother and grandmother and fulfilled her own lifelong dream. A deep well of wisdom overflowing with insights, the book nourishes the spirit. If you are a Chicken Soul person, this one is not to be missed.