Book Reviews - Songs From The Silence
by Satish Purohit
The Rebirth Of Buddha, Author: Ryuho Okawa, Published By: Jaico,Pages: 255 , Rs 250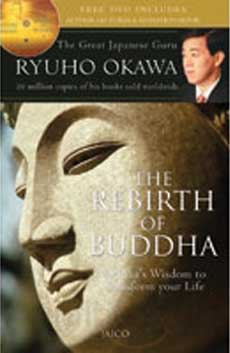 The author of this book, the jacket says, gave up his career at a major Japanese trading house in New York for the pursuit of truth and what he calls 'happy science'. In this book, the Buddha returns to this age and time and addresses humankind and urges them to recall all he has already taught them. "The Law of Buddha may take different forms/In different ages, regions and cultures,/But the Law of Buddha have existed/ Throughout all the ages."

I must admit that the book written entirely in free verse surprised me in the first 20 pages. On page 18, the author abandons the agnosticism that one ordinarily associates with the Buddhist view of God, and asserts that the buddhas who have reincarnated across the ages in many forms have taught that "There is a Great Spirit/ruling over the great universe/And when this Great Spirit/Sends a part of Himself to earth/This being becomes the Buddha reincarnate."

The Buddha urges men and women caught in the whirlpool of suffering to seek the refuge of the Buddha, the sangha and the dhamma.

These, says the Buddha, offer keys that destroy all suffering. He shares how over countless births he perfected his knowledge so that all beings could extricate themselves from the bonds of sorrow.

In subsequent chapters he speaks on developing an attitude of compassion, love, and gratitude towards all beings and the techniques and teachings that help one overcome energies like anger, greed and envy. The Buddha speaks on the folly of those who want their selves to last forever. He calls them foolish because the self they cling to does not exist.

While this is all familiar ground, what marks the book out is that the Buddha's voice comments on several modern-day issues like politics, economics and worldly success as well. With one chapter not exceeding 150 words, the book is as light an introduction to the Buddhist vision for the modern world as can be had.