Book Reviews - Soul adventures
by Satish Purohit
Pilgrim's India An Anthology, Edited By: Arundhathi Subramaniam Penguin, Rs. 399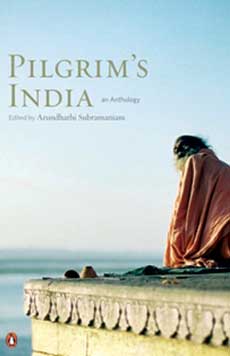 I keep looking for signs in the unlikeliest of places – billboards, car number plates, messages painted on automobiles and even movies that I see. I have not yet made up my mind whether it is some cosmic energy at work or merely incipient senility. I am either in some kind of mystic trance or my brain is getting too little oxygen.

Against this background, it is to be expected that I see signs in the title and content of books that are sent to me for reviewing. This one begins with a quote from Aitreya Brahmana. "The fortune of him who is sitting, sits; it rises when he rises; it sleeps when he sleeps; it moves when he moves. Therefore, wander!" So, does God want me to go on a long trek/ explore/ exercise? All of these, of course, appear to be good ideas.

While I potter about for what the sign, and many others strewn across the book, portend for me, I have, while reading this anthology of 52 pieces on pilgrimages in India, concluded that it holds rich veins of promise for someone navigating the spiritual topography of India. The book starts with Kabir who asks 'North, South, East, West? In heaven or the underworld? If Gopal is everywhere, where is hell?' questioning both the idea of a place, any place, as the culmination of a pilgrimage and the need for it. In the pages that follow among pieces authored
| | | |
| --- | --- | --- |
| | | |
| | How a book compiling the spiritual journeys of a motley crowd of thinkers, intellectuals and seekers sent the reviewer in search of signs to signal the next step in his own journey | |
| | | |
by the usual suspects like Swami Vivekananda, Radhanath Swami, Arun Kolatkar, Eknath Eashwaran, AK Ramanujan, Osho, Suketu Mehta and, of course, Pramahamsa Yogananda and J Krishnamurti, are those by beat poet Allen Ginsberg, Mark Twain, and one by Arundhathi Subramainiam on Sai Baba of Shirdi.
The pieces take the reader from the crowded Kumbh fair to Arunachalam and the ashram of the Shankaracharya of Kanchi, from the charged streets of Pandharpur to the communally charged atmosphere of the Sri Guru Dattatreya Baba Budhan Dargah in Karnataka. The perspectives through which the sites of pilgrimage are purveyed change from one of unquestioning devotion to detached cerebration and yet again to one of plain incomprehension.
Overall, a good read, even a great one in many places.