Book Reviews - Speed read
by Satish Purohit
Maximize your Memory, Author: Raymon Campayo, Published By: Jaico, Paperback edition, Pages: 272, Rs 250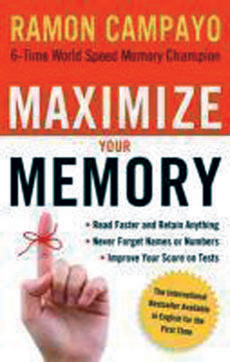 Woody Allen famously 'took a speed-reading course, and read War and Peace (1869) in 20 minutes' flat. He declared later that Tolstoy's celebrated tome 'involves Russia'. Raymon Campayo appears to assure his readers that his speed-reading techniques not only help one retain much more than Allen, they can also contribute positively towards one's personal, professional and social success.

Through techniques like 'ultra rapid photographic reading', 'psychometrics' and 'mental charts' one can, Campayo declares, develop a 'supermemory'. Campayo has publicly demonstrated his ability to memorise a 30-digit number in one second and memorise 23,200 words in 72 hours.

So why does one need to speed read and retain so much? Perhaps it is an anitdote to our technology-dependent lives. I remember a time when mobile phones were a rarity. All of us remembered dozens of numbers till inbuilt phone directories appeared on the scene. So many people recited poetry from memory a decade-and-a-half ago. Today, nobody does.

Campayo, while promising to heal our minds with the help of time-tested techniques, declares that the path to a healthy memory has to be wholistic. Merely following techniques without understanding that all things are interconnected is not enough. One has to eat right, ensure one exercises and keep the stresses of modern living at bay, if one wants to possess a superlative memory.

A useful how-to manual for the memory-challenged of all ages.