Book Reviews - The Little Book of Wisdom
by T. A. Basubramanian
Pearls of Wisdom: 30 Inspirational Ideas to Live your Best Life Now!, Author: Jack Canfield, Marci Shimoff, Chris Attwood and Janet Bray Attwood (and others), Published By: Jaico Publishing House, Pages : 203, Paperback, Price : INR 195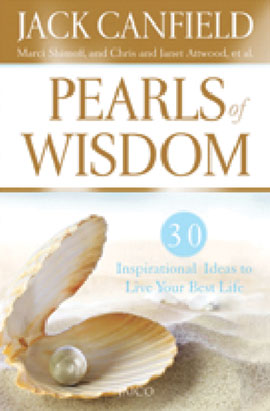 This book is like a rich buffet of self-transformative wisdom presented in a 30-course spread – a literal "Reader's Digest" of inspirational sharing. Here are the leading self-help gurus – from Jack Canfield and Marci Shimoff (authors of the Chicken Soup for the Soul series) to Randy Davila (The Gnostic Mystery) – each serving up one short chapter of their 'pearls' in their own unique styles. At one level, what you can see in this string of stories is a panorama of what the self-help genre offers. This is the first time I have had a chance to compare and contrast this many gurus in one go. And the exercise is all the more rewarding because many of the writers are totally new to me, so their insights are exciting and amazingly diverse. It makes one ponder how people can reach the same end – of self-discovery and regeneration – even though their paths are totally unique!

Many of the stories here are very personal – life-changing epiphanies or traumatic incidents, some more wrenching than the others. But commonly, these very experiences that the writers have gone through provide the unexpected basis for their calling as 'gurus of metamorphosis.' Sheila Pearl, author of Still Life: A Spiritual Guide for Life Transitions, talks about her struggle to deal with her husband's progressive mental illness that renders him incoherent. Through a process of meditation – a technique called 'kything' – she discovers that she can communicate with him as his normal 'self' – spirit to spirit – without words. "For me," she says, "that awful illness became one of my most awesome gifts and blessing."

Susan Barker, a certified life coach, shares that her 'moment of truth' came when she read a passage from A Course in Miracles: "Your worth is not established by teaching or learning. Your worth is established by God. Nothing you do or wish or think or make is necessary to establish your worth."

In the wisdom of 'illuminators' (the ones who have learned to overcome adversities and seek to pass on their 'pearls' to the world) there is always something of value I can relate to in my present state. Even if it is a nugget of commonsense – "We all have everything we need already, but we often don't realise it" (Leslie Gunterson) – it makes me stop and ponder. Just for that comforting value, I would choose to have these 'pearls' handy on my bookshelf.