Book Reviews - The Other Side
by Megha Bajaj
What happens when we die, Author: Dr Sam Parnia, Published By: Hay House, Pages: 241, Rs 295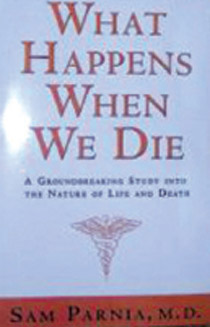 The Other Side I would thoroughly recommend this book to anyone who has ever thought about the ultimate question of what happens when we die... especially those who want answers based upon the objectivity of science. Ever since he was a medical student, Dr Sam Parnia MD, PhD, was fascinated by what it is that makes us all unique as individuals, in other words, what is the relation between the mind and the brain? Later, he was touched by the experience of seeing his patients die and was left with the question of what happens to the human mind and consciousness at the end of life? Disappointed that science had not seriously tried to study this question, he developed a scientific model i.e. cardiac arrest and started research into this field.

Parnia takes us on a journey of his research and life as a UK doctor and he reviews the literature on Near Death Experiences (NDEs). Whilst the book contains many fascinating anecdotal letters regarding NDEs, it also includes detailed biological issues about the question of consciousness after death. The book's uniqueness is that it takes a scientific point of view of the brain during death and remains open to the evidence.

What I found most convincing is that while other researchers of NDEs claim that it is an oxygen-starved brain that produces NDEs and hallucinations, Dr Parnia points out that the oxygen-starved brain can create confusion but not the startling lucid images that one sees when they are near death. No mechanism in the brain can produce that. There is obviously something beyond our scientific understanding happening.