Book Reviews - The art of evolved parenting
by Sharmila Bhosale
Parenting for Peace, Author: Marcy Axness, Published By: Sentient Publications, Pages : 406, Paperback, Price : $18.95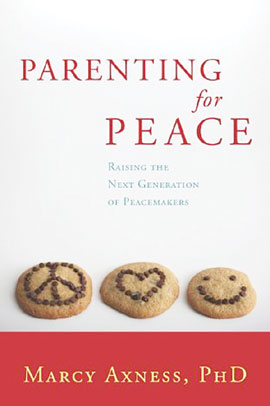 Combining the precepts of science with the relevance of age-old wisdom, Marcy Axness delves into consciousness to charter the path to evolved parenting. Culling from the seminal works of spiritual masters, meditation gurus and progressive thinkers like Kahlil Gibran on the one hand, and compelling evidence from educational reformers like Rudolf Steiner on the other, Axness makes a compelling argument for not only a change of parenting approaches to raise a better generation, but a transformation of parenting attitudes to usher in an evolved race.

Parenting, she states, starts way before the birth of a child. It begins with exploring the inner world of the parent. It means being aware of all the predetermined codes that we have been born into, both as a result of years of evolutionary history, and an offshoot of our parents' particular way of parenting.

For, as she explains, "our basic understanding of who we are and what the world is all about are a series of neural perception templates that were pretty much moulded for us, by our earliest experiences with the people and environment around us."

These imprints are survival-based – until very recently in human history, our survival depended on remembering every detail of how we survived bad things.

What has changed almost irreversibly, and most decidedly in the 21st century, is that from now onwards, our survival may well depend on prioritising the positives of human experience – joy, appreciation and connection. For this is how we will upgrade our own evolution and effectively address the multiple crises facing humanity.

The book is neatly segregated into important milestones of parenting challenges. Starting with prebirth, where a conscious and disciplined choice sets the parenting ball in motion, the book straddles pregnancy, birth, infancy, toddlerhood and finally, 'shepherding' them into adolescence. Axness, who is a professor of prenatal development and a popular international speaker, highlights the role of psychological constructs, spiritual guidelines, scientific data and above all, a cue-ing into one's basic universal rhythms, to parent a generation that's evolved, adaptable, and spiritually attuned to the flow of life itself. And this is no flowery hope or mushy sentiment. Axness anchors her theory firmly by supporting each idea with corresponding scientific evidence, harnesses each point with pragmatic proof, and forwards each insight with do-able goals and action.

For instance, each chapter has a section of Principles to Practice, which furthers the points with exercises and routines that are easy to implement, logical and serve to entrench the theory into practice – and produce results. The overriding premise of the book is one that is so evident in parenting, but equally one that is so stubbornly resisted and doggedly denied: "Our ability to manage a child effectively is very much an outcome of our capacity to manage ourselves" (Gordon Neufield – Psychologist). For as Axness herself acknowledges in the book, "in parenting my children, I parented myself".

Informative, informed, well researched, practical, engagingly written and above all, wise. The book is a must-pick-up not only for parents, but for each of us who wish to be better people and see the world evolve into a better space. This book shows exactly how to do just that.