Book Reviews - The cubicle yogi's bible
by Satish Purohit
Yoga in the workplace; Author: Shameem Akhtar; Published by: Westland; Pages: 236; Rs. 295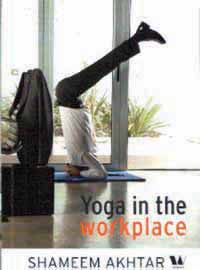 Having long been a desk-bound journalist, I asked myself how many of the techniques mentioned in Yogacharya Shameem Akhtar's book could I have tried in my office. I don't want to be the 105-kg man who broke his spine attempting to throw his right leg over the right shoulder during coffee break. I have decided that all the poses except two can be attempted by anyone who does not suffer from physical disability of any sort. The forward bend or paschimottasana and the padahastasana or the forward bend, hand-to-foot pose are the only two I would shy away from.

Akhtar promises a 500 per cent improvement in overall well-being to anyone who devotes five minutes a day to 'office yoga'. She reminds readers that the body is like a machine that has to be put to effective use for it to remain in working condition. With increasing reliance on gadgets, sedentary lifestyles, and irregular eating and sleeping, the machine falls prey to conditions like chronic insomnia, fatigue, obesity and bone loss.

Akhtar's response to the challenge is a list of asanas, mudras and kriyas that can, according to her, make the body fit and flexible and the mind calm and stress-free. Every pose is explained in easy-to-follow bullet points with cutouts of Akhtar and her daughter Jahnavi Sherrif demonstrating the pose. The book ends with a chapter on how to use the book effectively followed by warm-up and practice charts that give a pictorial overview of what the book has to offer.

Here is hope for those who live out of the office with no time for any physical activity. After all, five minutes a day is all Akhtar asks for. The book may not be a panacea for all ills but it is definitely a step in the right direction.