Book Reviews - The gift of wings
by Satish Purohit
Principles Of Success Made Easy - 14 Easy Steps To Climb The Ladder Of Success, Author: Roopleen, Published By: Macmillan,Pages: 162, Rs 175.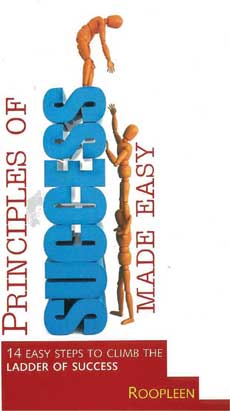 Let me begin by listing the positives of this book because there is much between its covers that is, well, not holistic. To begin with, Roopleen, an ophthalmologist with an interest in personal coaching and transformation, gives a wonderful overview of techniques, attitudes and tips that have been tried and tested by various life coaches over the last one century and continue to be relevant to this day. From declaring her faith in the power of positive thinking and breaking up big goals into smaller more manageable ones to using creative visualisations and affirmations to get what one wants, Roopleen hardly misses anything that is considered the gold standard in life coaching circles today.

The book also has its shares of anecdotes. Rooplein shares, for instance, the story of Sylvester Stallone's stupendous rise to stardom. "Once, while watching the famous fight between Muhammad Ali and Chuck Wepner, Stallone got an idea of the 'underdog' and penned the script of Rocky. When he went around selling his script, he did not find any taker." Finally, when he found one and was offered money for his script and the rights to make the movie, he refused. Stallone wanted to be an actor.

"The deal was reluctantly settled after Stallone refused to leave his ground. When Rocky was screened, it was a smash hit and Stallone became an overnight star!" Now, for the stuff that makes me uncomfortable. Roopleen begins her book by saying the book is for those "who are ambitious and restless, are in a hurry to be successful in life and want to achieve their cherished goals but do not have a clue of how to go about it. This book is for those who are struggling with their mediocrity…" Elsewhere, she advises readers to develop the killer instinct and classifies people as losers, mediocrities and winners depending on their attitude towards life. While she does not define success in purely materialistic terms and does advice readers to aim for balance in life, the pastiche of ideas she espouses do not appear to come from a centred space. In final evaluation, a good book, a great one too in some parts, but not one that has any new insights to offer.