Book Reviews - Reflections in a Sacred Pond - The inspiration of the sages
Murad Ali Baig, Tara Press, New Delhi, 217 pages, Rs 295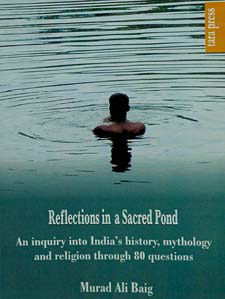 In these times, writing on religion can indeed be a sensitive issue. The author, therefore, consciously seeks to be balanced and selects 80 questions and answers relevant to all groups – Hindus, Muslims, Christians, Buddhists, Jains and Sikhs. The author shows courage in exploring a terrain that is discussed and debated ad infinitum but allows the reader to draw his own conclusions.

Though focused on India, Baig takes the reader with him on the evolution of religion through the ages. He puts it in context by detailing how people the world over have been influenced by geography, sources of food, trade, and political forces and how religious practices have been usurped by professional priests claiming to be God's sole selling agents. This last, the author points out, is the reason for distortions, superstitions, and a vacuous religiosity that the founding sages themselves would have detested.

The author ends on a hopeful note, saying, "An increased awareness of our inner spirituality may mark a new consciousness because evolved spirits will find no purpose for the wood, brick or stone with which Man makes his deities or places of worship. They will understand that this Great Spirit, sometimes called Ishwar, Allah, God, or what you will, was the inspiration of all the sages, prophets and the founders of all religions and is therefore greater than any of them."

On the flip side, the book, if seen in the historical context, lacks completeness and thoroughness in giving one all the facts and analyses. However, that is also its strength, for it quickly takes one through a tour of India's religious past providing much food for thought and introspection in the process.