Book Reviews - The myths behind the elephant god
by T. A. Basubramanian
99 Thoughts On Ganesha, Author: Dr. Devdutt Pattanaik, Published By: , Jaico Publishing House, Paperback edition, Pages: 228, Rs 195.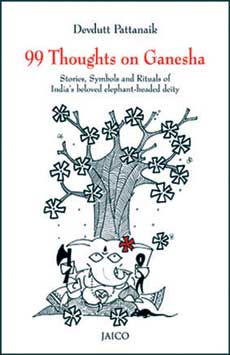 Dr Devdutt Pattanaik, a medical doctor by training and a marketing manager by profession, is well set to earn the title of 'interpreter of mythologies'. He has written extensively on the relevance of sacred stories, symbols and rituals in modern times.

In Hinduism, Ganesha is probably one of the best-known and beloved representations of divinity. As the embodiment of auspicious beginnings (Mangal Murti) and eliminator of obstacles (Vigna Hara), he is said to be the most adored divinity in India. The popularity of Ganesha is widely diffused across the young and old generations, even outside India. He is called by many other names, some reverential, like Ganapati (Leader of the Ganas – Shiva's followers) and some playful – like Lambodara (the Big Bellied One) – but each name has a fascinating story behind it.

In this exploration of 99 ideas about the elephant-headed deity, Ganesha, Dr Pattanaik brings to light a delightful medley of associations drawn from ancient scriptures, temple folklore, mythology, rituals and other sources.

Ganesha – or Ganapathi – uniquely among deities, popularly worshipped as the son of Shiva and Parvati, is connected to a rich variety of representations and symbols. It is fascinating to learn, for instance, that 'Vinayaka', one of the many names of Ganesha, means a child created without (vina) the help of a man (nayaka) – an allusion to the tale that Parvati created him as her own son because Shiva did not want to be a father.

Pattanaik weaves in a wide assortment of mythical musings about Ganesha drawn from the Vedic and Tantric schools. There are some deeply esoteric associations, too. Under the section on 'Representations' we learn that in the Sri-tattva-nidhi, a Kannada compilation, 32 forms of Ganesha are to be found.

Among them, the thirteenth, viz. Maha Ganapathi, is widely worshipped. There is a tantrik sect devoted to this form. Sakti Ganapathi, Ucchisha Ganapathi and Lakshmi Ganapathi are also tantrik forms. Heraba Ganapathi is popular in Nepal.

Pattanaik's own lively line drawings add much visual delight to the text. To those interested in exploring the etymology of Ganesha and his variety of names, this is a great source of knowledge.

The real value of this work is that it helps to connect one's experience of the quotidian modern icon of Ganesha – seen embellishing households in the form of art or as artefacts or even as jewellery – with the ancient, and sometimes startling, roots of his mythic origins.