Book Reviews - The perfection of imperfection
by T. A. Basubramanian
The Perfect World - A Journey To Infinite Possibilities, Author: Priya Kumar, Published By: Embassy Books, Pages : 319, Paperback, Rs. 275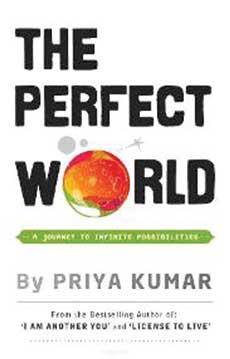 If the world were perfect, it wouldn't be."

That could well be the one-line summary of Priya Kumar's richly imagined story. As her protagonist Niki Sanders gets swept away from Earth and home by two alien beings from a distant planet, Zedius, the mythical 'Perfect World' in the title, she evolves in a series of spiritual realisations, each time transcending some of her own limitations – by setting right the perceived 'wrongs' en route. It reads like a racy James Redfield adventure.

"Perfection is the overcoming of imperfections. If the flaws are denied in the arrogance of perfection, then downfall is a natural consequence. Zedius was evidence of that; my life on planet Earth was evidence of that," muses Niki. As Niki – Priya's namesake in the tale – chronicles her journey, we are invited to introspect about the metaphorical meaning of Zedius, where, in her words, "There is too much perfection. Everything is right. And you know how devastating that can be? It's like sleeping with the enemy".

Her story-telling is straight from the heart and fantasy-filled – dreams laced with feelings and intuitions – which makes the narrative both imaginative and accessible in its simplicity.

"There is one purpose for creation – freedom. Freedom from the illusion of mediocrity, scarcity and compromise. There is a better world – one that you create within. There is a Perfect World – where truth, love and spiritual evolution are the code of honour for all."

This is Priya's third book – and it clearly complements her occupation as a motivational trainer. It comes across as a workbook for those who believe in self-improvement by harnessing their imagination and finding a creative channel for their energies.