Book Reviews - The sacred womb
Spiritual Pregnancy - Inner wisdom to nourish and nurture your child , Author: Gopika Kapoor, Published By: Hay House,Pages: 224, Rs 250.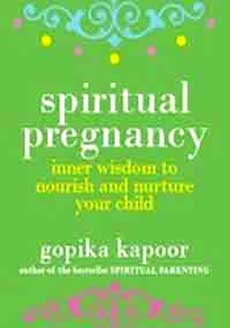 Here is a book that has long been awaited. A book that introduces alternative techniques, therapies and spirituality into one of the most important and crucial experiences a woman can have – pregnancy. Gopika Kapoor, who already has a book under her belt (Spiritual Parenting) offers several innovative ways in which holistic practices can make this experience both more sacred and more relaxed. For instance, she suggests meditating on the panch mahabhuta at least twice a week while planning a baby, and to ask the elements to bless the various parts of the baby's organs. To alleviate morning sickness she advocates ginger tea and aroma therapy. The practice of affirmations and visualisation have their place. Yoga and pranayam are de rigeur. Above all, she stresses the role of spirituality in helping you calm down your fears, adopt a more positive attitude and discover how sacred pregnancy is. The author, a high-profile activist, began taking a class in Vedanta soon after she discovered she was pregnant. Having given up her work, there were moments when she felt useless and "like a baby-making machine". It was Vedanta that helped her realise that the Divine was taking birth within her and that her present purpose was to provide a nurturing space for the process. She also employs Vedanta to handle the dread most new mothers have about their bodies changing shape, perhaps irrevocably. Recognising that the soul sheds the body just like we shed our clothes at the end of the day, will help us see our stretch marks as the battle scars we endured while undergoing the greatest challenge of our lives, she says.

The book roves over the broad terrain of pregnancy, offering wise advice and welcome information. She stresses that the partner be made as much a part of the experience as possible, not just because it is his baby as well but also because unless he is involved in the process he can feel pushed out of his wife's life. While expecting their own twins, she reveals that her husband, Mohit, would sing lullabies every night, placing his mouth close to the stomach. There are chapters on the hysteria hormones can unleash, the exhaustion that can waylay, the superstitions one may encounter and the often competitive attitudes prevailing between pregnant friends or family. One of her friends, for instance, boasted that his baby had a perfect Apgar score (a test to ascertain newborn health). The book marks their own journey from DINKs (Double Income No Kids) to SILKs (Single Income Loving Kids).

One of the most interesting chapters was on different forms of birthing ranging from home birthing to hypno birthing and water birthing, each with a testimony from a mother.

A useful compilation for anyone planning, or in the throes of, pregnancy.