Book Reviews - The travails of Tibet
by T. A. Basubramanian
In the Shadow of the Buddha, Author: Matteo Pistono, Published By: Hay House India, Paperback, Pages:274, Rs. 299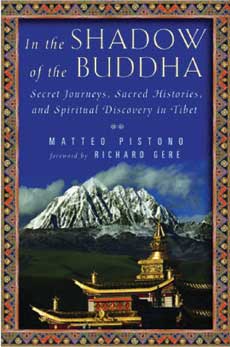 You call it a Buddhist pilgrimage. China calls it spying," says Matteo Pistono's friend, an intelligence specialist. "It is my moral responsibility to share the stories I am told by Tibetans," responds Matteo.

That balance of story-telling, combining many mystical narratives drawn from the life of Terton Sogyal Lingpa (one of Tibet's great mystics and teacher of the thirteenth Dalai Lama) in the 20th century with heart-rending accounts of the present-day struggle going on in Tibet against Chinese oppression, is Matteo's unique achievement in this semi-fictional book.

Sometimes the tone becomes wry and ironical. "The Communist Party of China argues that they are the sole authority on knowing whose body the Dalai Lama will choose to reincarnate. The incongruity that an atheist government is involved in the mystical process of finding a reincarnate lama is ignored by Communist officials," notes Matteo.

That Matteo is sympathetic to the plight of Tibet is abundantly clear. "For nearly a decade, he has secretly carried out of Tibet evidence of atrocities by the Chinese government – showing it to the human rights organisations, and anyone who would care to listen. Yet, he did not originally intend to fight for social justice in Tibet – he had gone there as a Buddhist pilgrim," says actor Richard Gere (who is himself a practising Buddhist and an active supporter of the Dalai Lama) in his Foreword to the book.

Matteo is a true student of Buddhism, and has had the good fortune of having received significant teachings from some of the world's greatest spiritual teachers – including the Dalai Lama, Sogyal Rinpoche, and the late Khenpo Jikmé Phuntsok inside Tibet – something rare for a person coming from outside Tibet.

In long road trips across Tibet, Matteo listens to a variety of Tibetans – including monks and ordinary people who are suffering because of the atrocities of the Chinese secret police. He also finds time to meditate, visit monasteries and muse over the wisdom and timeless knowledge of ancient Buddhist masters.

What we get is an inside view of Tibet's rich heritage and culture as well as the abiding faith that gives the people of Tibet the strength to sustain their peace-loving traditions even under the continuing assaults on their beliefs and practices.