Book Reviews - The truths of life
by Punya Srivastava
The Aum of All Things, Author: Ruzbeh N. Bharucha, Published By: Full Circle Publications, Pages : 237 pages, Price : INR 250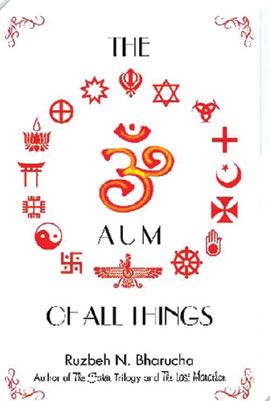 Ruzbeh Bharucha's latest offering, after the successful Fakir Trilogy and The Last Marathon, is an interesting and comprehensive take on the concept of Oneness. Infused with a sense of humour, this book is a dialogue between the author and Dhashrathbhai Atmaramdas Patel or simply Bapuji, a reclusive sage along with his ashram mate, Mataji. The conversations are interspersed with Bharucha's five-year old daughter, Meher's, innocent yet intelligent questions and Bharucha's tongue-in-cheek answers.

The book answers questions that confound the spiritual aspirant such as, 'How was the world created?', 'Who am I?' and 'What is my purpose on earth'? in a very simple and understandable way. It talks about the first 108 seed souls, life after death, the 'what and how' of karma and how to disentangle from it. The book brings together two philosophies on the path of liberation and shows how they eventually lead to the same destination. Bharucha believes in compassion and love for all beings as well as total surrender to your master as the solution to overcoming karma. On the other hand, Bapuji believes in the power of meditation to get in touch with your Higher Self and unravelling the wisdom hidden inside you. The interrelation between these two approaches makes for an interesting and enlightening read.

The only hitch is the liberal usage of Sanskrit words that interrupt the flow, however much required to get the context right. Apart from that, it's a book to be treasured. And by the end of it, you are sure to become a fan of little Meher.