Book Reviews - The wholistic way to health and longevity
by T. A. Basubramanian
Ancient Wisdom for Modern Health, Author: Mark Bunn, Published By: MacMillan Publishers, Paperback,Pages : 301, Rs. 445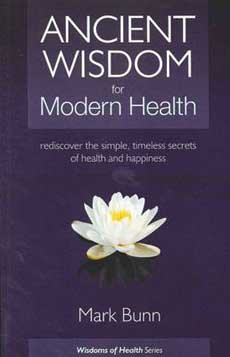 Mark Bunn's epiphany about health and wisdom occurred in 1994 when he read a book on Maharishi Ayurveda – the modern-day revival of the ancient Indian natural system of health. He realised that eating was not about "calories, fats and waistlines. It was about enjoyment, communal connection and nourishing the body's inner intelligence."

From that point of realisation, Mark (a former AFL footballer), went on to dig into the secrets of the world's healthiest and longest living people. With deep understanding drawn from both Western health science (Exercise Physiology) and Eastern wisdom (Maharishi Ayurveda) he currently teaches from the Eastern perspective – that ill-health and chronic disease are more an outcome of violating certain fundamental laws of life, rather than an inevitable part of ageing.

So in this wisdom-packed book, Mark shows us how to reconnect to the timeless, natural rhythms of body, mind and heart that enables one to effortlessly experience a natural state of happiness, vitality and flow. There are two parts to his narration – an introduction – 'The Wisdom Of Wisdoms', and an exploration of 'The Seven Wisdoms.'

The Wisdom Of Wisdoms is about living in harmony with Mother Nature's laws.

The Seven Wisdoms relate to emotional health (nourishing the heart before nourishing the body), following our biological clock in tuning activities like eating and sleeping, eating 'intelligent' foods, transforming physical exercise from pain to pleasure, connecting with nature's big five gifts (earth, water, fire, air and space), meditative experience of silence and learning to be in touch with one's inner wisdom – or intuition.

A remarkable round-up of the world's best collective insights into natural health, Mark's book will help you see what is needed to be youthful in mind, body and soul, experience more contentment and joy in life, and experience good health without complicated methods.