Book Reviews - The writing on the scroll
Handwriting Analysis; Author: Andrea Nichol; Published by: Jaico Publishers; Pages: 328; Rs. 295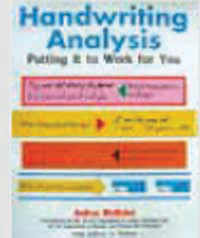 Thereís something about self-discovery that has not just me, but quite a lot of us fascinated. Palmistry, body language, graphology are intriguing simply because they speak so much about us, a lot of which we may not be aware. This book on graphology shows us how to analyse handwriting and get a glimpse into the person before you might know them.

The author, Andrea Nichol, studied this art in its formative years. She is now a consultant in a variety of cases including crime solving, employment predicaments, and psychological problems. Starting out with a section for cynics, she clearly demonstrates how handwriting affects moods and vice versa.

By trying to mimic a style of writing, you also absorb the character trait associated with it. She also explains that this art isnít intuitive or in any way mystical; instead itís logical and empirical in nature. Through a personís handwriting you can figure out their physical, mental and emotional states. The author gives examples at the beginning and end of each chapter to allow us to see for ourselves, what we deduce and understand from it.

While reading the book, I found it fascinating to see how a small gap in writing may mean a lie, or a slightly larger or smaller written word hints at a discrepancy, how a slant shows us whether we are emotionally repressive or exuberant. Although this book may not reach the depths of graphology, it certainly makes for an interesting start.