Book Reviews - The year of living experientially
Eat, Pray, Love, Elizabeth Gilbert, Published By: Bloomsbury, Pages: 334, Rs. 499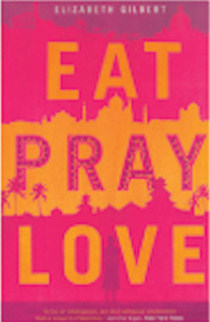 It's really hard to resist a book that begins with the words, "I wish Giovanni would kiss me" especially if you are expecting to read a solemn tome on spiritual search. Unlike most other spiritual autobiographies that generally do away with the material sphere when their eyes light upon the Holy Grail, Elizabeth Gilbert, a New York-based writer and journalist, strives for a fine balance between pleasure, spirit and love – hence the name of her book – Eat, Pray, Love.

Her story revolves around the year she spends away from home and work – mathematically divided into four months in Italy, four in India and four in Bali – in order to heal from a traumatic divorce and a later disastrous love affair that left her feeling "seven thousand years old". In the course of that year, she eats a great deal of fine food in Italy, learns how to speak the seductive Italian language, comes to India to what is clearly Muktananda's Ganeshpuri Ashram though she refuses to name it, meditates a lot, and finally goes to Bali where she finds love. Through it all, healing happens and happiness wells up, making her journey truly a spiritual quest.

It all begins when she finds herself weeping night after night on her bathroom floor, facing the unpalatable truth that she did not want to be married any more. The crisis propels her into her first prayer, and from then on she moves step by step through a self-discovery that has some truly memorable moments like finally freeing herself of the divorce trauma, and even experiencing God.

Elizabeth, or Liz as she breezily refers to herself, is a gifted writer with a great stock of self-deprecation and humour. The book oscillates between hilarity and sincerity making it both entertaining and moving. Above all, she is a born raconteur who will keep you riveted to her story and compel you to experience it all with her. It is inevitable that you do so with a touch of envy. After all, a Bali magic man told her on reading her face that she had more luck than anyone he knew (how lucky is that!).

Besides, she is living everyone's fantasy life. Hoofing off from home and bondage and travelling to the exotic places of the world. It's no wonder that Liz's book is a huge success. It has appeared on Oprah and has apparently triggered off a kind of movement among women too used to sacrificing their fulfilment for the sake of keeping the family together. Whether this means that more women will divorce their husbands is not clear, but evidently more of them are standing up for their own right to seek not just themselves but God (yes, yes, they are the same thing). Still, I must say that after I finished reading the book, I was left with a vaguely dissatisfied feeling – the sort you get when you have had more chocolate cake than is good for you and find yourself longing for the sustenance of dal-chawal. However, a great friend of mine simply loved it and so have all those Oprah women. So all I can say is, give it a shot.