Book Reviews - When a scientist meets God
by Vikram Hazra
Proof of Heaven: A Neurosurgeon`s Journey Into the Afterlife, Author: Eben Alexander, M.D.Simon & Schuster, 2012-10-23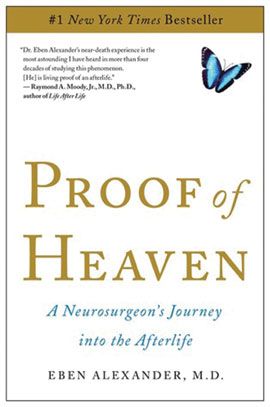 In many ways, Dr Eben Alexander's case is singular not just in medical history, but also among the now-numerous chronicles of near-death experiences (NDEs) and discussions of the afterlife. This alone might be reason enough to read his book; the fact that it is an exceptionally detailed, cogent and impeccably edited and structured account makes it an essential read.

A leading American neurosurgeon with no spiritual leanings whatsoever contracts an extremely rare form of bacterial meningitis, and goes into a coma for a week. When he regains consciousness, he recalls in absolute detail his journey into regions beyond and his experiences therein, including meeting and conversing with "God." While his recovery itself is almost unprecedented in medical science, what is more startling is the fact that his neocortex (the part of the brain involved in higher functions such as sensory perception, generation of motor commands, spatial reasoning, conscious thought and language) has been completely shut during his coma, which rules out the possibility of his having imagined, remembered, hallucinated or concocted this extraordinary tale. Further, his experiences bear a striking similarity to the descriptions of the afterlife and the soul's onward journey in ancient Indian scriptures including the Garuda Purana, none of which he has ever been exposed to. The passages where his medical training conflicts with his "more than real" experience are fascinating, as are his obvious sincerity of purpose and struggle to encapsulate the inexpressible in words. Importantly, this book juxtaposes the entire "consciousness" debate with a meticulous modern scientific analysis which is intriguing at the very least, and impressive in its scope and promise.

Is this book irrefutable proof of the existence of God and Heaven? Is Dr Alexander, with his scientific and academic credentials and secular and avowedly sceptical outlook, the perfectly chosen messenger to share this truth with humanity? Is this book a perfectly researched and immaculately perpetrated hoax?

Whatever the case, it is easily one of the most interesting books I have read in recent years, and highly recommended to seekers and sceptics alike.