Book Reviews - When colours talk
by Punya Srivastava
Aura painting, Majvi Romebom Taj Palace Hotel, New Delhi, April 6 -14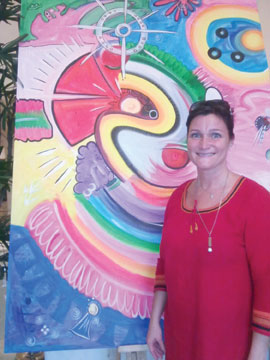 Colours talk and so do paintings. And they are at their most loquacious when it comes to Aura paintings, which relay the messages that your body holds for you.

Majvi Romeborn, or Amrita Anand to use her artist name, is a Swedish psychic-clairvoyant painter who brings forth the aura of a person on the canvas. She also painted the auras of some people live at the exhibition. "I tell people about themselves through my paintings. I channel my higher self – the Rainbow goddess – when I paint," she says, adding, "I have always had intuitions. Aura painting is the result of meditation and yoga."

Majvi, who is based in Pondicherry for the past one year, uses all the seven colours of the rainbow in each of her paintings. Bright, vivid splashes of rainbow colours infuse the paintings with verve and vibrancy, clearly indicating various energies flitting through the person she is painting. Numbers, alphabets, patterns, geometrical figures as well as sweet, little smileys find their way into the paintings. According to her, the colours might change with our moods but the numbers and alphabets remain constant as they depict our real self. The aura painting of a young girl consisted of frogs, cats and sheep, dominated by a bright, sunny yellow palette denoting her playful energy. Another painting, her biggest, captured live at the exhibition, is named The Clown because of its playful energy and laughter.

The most intriguing part of these aura paintings is that they can be rotated in all four directions and after every turn, they converse differently to you. Viewing these paintings from different angles is like stumbling upon a treasure trove while walking through different paths – each time you get a new message. Majvi started with oil on canvas and now she uses acrylic on canvas to bring out the hidden stash of emotions and energies wrapped succinctly in the aura of us all.