Book Reviews - Wisdom from an avatar
Godís Debris: A Thought Experiment; Author:Scott Adams Andrews Mcmeel;Published by: Publishing; Pages:144; Rs.: 921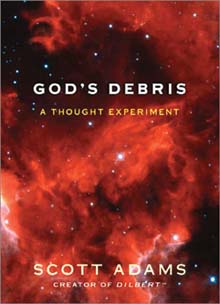 I admire the childlike notions that the Dilbert cartoon portrays. So when I came across a philosophical book by Dilbertís creator, Scott Adams, I was puzzled as to how deep it might be. After reading the book, it is safe to say that although this isnít the deepest I have read, it is greatly amusing and has its moments.

The book is a conversation between an old man and a delivery guy on the topic of God and existence. It is based on the principle that the simplest explanation is most often the right one. The book really starts when the old man, an avatar, says he has been expecting the delivery man. From then on until the end of the book, the rhythm carries you and before you know it, it's over. A great amount of importance is given to how probability is the root cause behind all that is. He uses it to describe how things vibrate and pop in and out of existence, giving rise to the concept of gravity. Some of the other topics discussed are manís free will, Godís free will, uncertainties, belief, reality, Godís consciousness and the nature of light. The unexplainable title becomes clear when Godís omnipotence is reversed. If an omnipotent God chooses to experience duality, he could choose to stop existing in a particular space. It would be Godís destruction, and all matter as it is today, including us, comprising Godís debris. And now, Heís putting Himself back together again!

It's called a thought experiment because it encourages the reader to think about what is written. Although, after books such as What The Bleep Do We Know?! this wouldnít seem just as interesting. Some of the concepts Adams describes are easily proven wrong, but most are novel and incredibly thought provoking. At the end of the book the avatar describes the rise in awareness that he underwent to be all-knowing. The book ends with a classic case of the student becoming the master, when the first question of probability is raised once again. A must-read for those with an inquisitive mind.