Book Reviews - Wisdom of the ancients
by J. K. Mathur
Indian management and leadership:: Spiritual and Ethical Values for Corporate and Personal Success; Author: Swami Bodhananda; Published by: Buejay Books/Sristhi Publications, New Delhi; Pages: 226; Rs. 195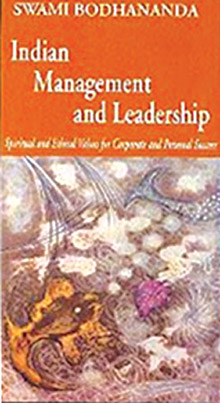 Swami Bodhananda has from time to time enriched management literature by his incisive writings on various issues relating to management with insight into Vedantic philosophy. In the present book, he devotes a chapter to an interesting aspect of management, personality re-engineering. Although a western concept, it has roots in the Indian philosophy which says that you cannot reorganise or reengineer an organisation unless you reorganise the individuals therein. Managers should develop spiritual courage through contemplation, inner calm and other creative processes; spiritual education awakens the conscience, the inner light, the inner voice and the path of bliss.

The chapter on guna (attributes) analysis, so essential to understand the human mind, is a must for HRD managers. This chapter gives a good insight into the power and working of the human mind, a must for rational personnel management. In the chapter devoted to work culture and team building, the author laments that there is hardly any work culture in India; in fact, there is shirk culture – shirk the work. The first requirement for developing a healthy work culture is to invoke spiritual potential and discover the inner source of infinite energy. The author compares the practice of work culture to a 'yajna'. To perform yajna, you have to set up a 'yajna shala' which can be compared to a modern factory or workplace. In a yajna, everybody has to contribute his mite and pool his resources and create synergy in order to achieve a common objective. He also compares the management effort to the churning of the ocean in our mythology, known as sagar manthan, where the gods and the asuras collaborated to achieve the taxing goal. Similarly, two competing factions could come together in a crisis situation to meet a common objective.

Continuing to imbue management practices with Indian wisdom, he advocates reflection and introspection through swadhayaya for managerial effectiveness. The mind should be quietened by practising postures, pranayama, prayer and meditation. He also draws on Indian mythology for leadership lessons such as Rama's leadership style, which had not only IQ but also EQ (Emotional Intelligence). And offers Krishna's example in Mahabharat on how to take difficult decisions in hostile circumstances. He was instrumental in conflict-resolution by taking recourse to sam, dam, dand and bhed.

The book is a must for the managers who want to excel in their field because only through the timeless wisdom contained in Indian philosophy can one attain one's true potential.