Book Reviews - A return to yoga
by Punya Srivastava
Meditative Yoga – Integrating Body, Breath and Mind, Author: Are Holen and Torbjorn Hobbel, Published By: Motilal Banarasidass, Pages : 116 Pages, ISBN Paperback, Price : INR 595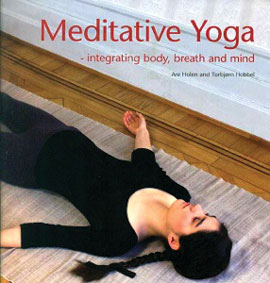 Yoga is arguably one of the best gifts India has ever given the world. New books on the ancient practice keep coming up as is the case with the book under review. Meditative Yoga – Integrating body, breath and mind is an illustrative book based on the teachings of Acem School of Yoga, Norway, which promotes Sage Patanjali's crisp description of yoga 'Yogash chitta vritti nirodhah' – yoga obliterates the fluctuation of mind. The authors rightly identify yoga as being much more than a form of physical exercise (as the usage of the mere word is negligible in the book); it is a combination of physical, respiratory and mental practices to bring the person's body, breath and mind in total coherence, leading towards a deep meditative state. The book elaborates about the eight limbs of classical yoga (ashtanga yoga) which comprise ethical dos and don'ts, physical postures, breathing practices and meditation.

Further, the book comes adorned with photographs of various asanas, glossed richly in classic B&W. The photographs are eye-catching and true to the 'classic' form the book talks about. Most of them are embellished with related quotes, enhancing the beauty of the asanas.

What makes the book stand out is the simple way in which it details the postures for the novices and the beginners. Start with a yoga pose; relax your muscles, when your body gets used to the pose, focus on your breathing. Once a person develops a hold on the breathing, it is then that he can delve deep into meditation and be in the state of 'meditative yoga'. The book contains an entire section on Yoga Programmes, which are customised yoga routines designed for the preliminary, beginner, experienced and advanced practitioner. The glossy B&W photographs of the various asanas help in illustrating the poses.

Check out this book if you still have not plunged into the world of yoga and need some motivation to help you do so.