Community - The art of giving
by Deepti R Paikray
Hospitality is a value common to all faiths and tradition, for it is in giving that we build bonds as family, friends or community, says Deepti R. Paikray

Download PDF Format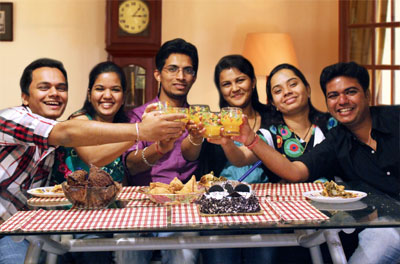 Shabri's tender hospitality rendered unto Lord Rama during his forest banishment went down in mythological annals as an effulgent example of devotional hospitality. (When Lord Ram had a meal with her she personally tasted every fruit before passing it on to her Lord to ensure that only the sweetest reach him). The Lord may not lose his way and land at our doorstep, but living in a land rooted in the tradition of atithi devo bhava (guest is God) entails that we throw open the doors of our hospitality wide to those who wish to come.

What comprises hospitality?

Is it the gold-rimmed platters, the clink of fine china, ponderous pots brimming with herbed curries or impressive settings? The Webster dictionary defines hospitality as a generous and cordial reception of guests. The tradition has undergone changes from my mother's era when guests stayed interminably, thoroughly challenging the hosts' resources, budget and wits. Today, for several reasons, hospitality has turned 'semi'. It involves semi-home cooked, semi-outsourced help, semi-pot luck and is often semi-hearted. Jane Jarrell in her seminal book, Simple Hospitality, writes that the word hospitable is derived from the word hospital which denotes a shelter. Thus authentic and simple hospitality is a shelter for the soul where the desire to impress is supplanted by the willingness to serve.

Hospitality at home

I have met hosts for whom home, heart and hospitality are one and others who have had no desire to be seen within the truthful settings of their home. Practice hospitality, says the Bible (Romans 12:13b). Similar injunctions exist in the Torah and the Koran. Bone-weary after a party as we trash cans and load the dishwasher, we would do well to remind ourselves of another command in the Bible: "Offer hospitality to one another without grumbling (1 Peter 4:9).

Hospitality, I learnt, is not a display of crystal, cutlery and trivets but a willingness to share the bounties of life with our guests. It is powered by good intent as much as it is by our deep desire to connect. Hospitality at home could mean offering a cup of tea and a listening heart to an overwrought, overworked friend. It could also mean making a nourishing snack for an elderly neighbour or offering a hug along with some fruit to a favourite aunt, or extending a lunch invitation to an utterly tired home-maker.

Inner work

However, before hoisting the canopy of reception, it is helpful to do some inner work. During a kitchen restock, we can only refill containers that are empty. Similarly, it helps to divest ourselves of overwhelming duties and demands in order to create space for the spring of empathy and connection. I call it the emptying of our soul pantry.

Jean Anthelme Brillat-Savarin, a French lawyer, politician and gastronome, affirmed, "To invite a person to your house is to take charge of his happiness as long as he is beneath your roof." Food is an essential pillar supporting the canopy. When the hunger in the belly has been assuaged, the guest's countenance takes on a decidedly angelic look; never mind their burping, slurping and indolent lounging.

There are all sorts of guests: vegetarians, non vegetarians, gluten resistant and nut-allergic. Being sensitive to individual preferences is part of being a good host, and it is fine to occasionally outsource the cooking of the food as long as intent is heart-sourced. It is the job of the host to manage the show with an eye for detail: welcoming guests, taking care of their personal belongings, sustaining conversations and keeping away from the food table so guests are comfortable as they pick as much as they need.

Of course, it is not just hosts who need to have parameters. Being a good guest is also an art. In India, where all offers by guests to help are turned down, having people for dinner proves to be a taxing affair for the hostess. In America, where domestic help is not the norm, one appreciates an offer for a post-dinner kitchen tidy-up, a practice, I am sure, a lot of Indian housewives would welcome.

Guests sometimes shy away from a reciprocal act of hospitality intimidated by the host's skills. This is undesirable because it can nip the promise of friendship with new people in the bud. Even hostesses who are excellent cooks look forward to being invited. If one feels that one's culinary skills do not match up, one can always order takeout.
To invite a person to your house is to take charge of his happiness as long as he is beneath your roof
Jean Anthelme Brillat-Savarin
I say this because I have been invited to several meals that would have been more enjoyable if the food had been ordered. All said, it is always a good idea to help around the house if one is staying for a long spell. Sharing of chores forges connections and reaps us a rich harvest of friends who see us through the crests and valleys of life.
Ceremonial hospitality
Ceremonial hospitality at weddings, birthdays, engagements and even funerals involves a degree of gravitas and faithfulness to form. An invitation to an Ethiopian coffee ceremony is a peerless act of respect for the guest. Ceremony being the key aspect of the proceeding, it is mandatory to drink three cups of the concoction brewed to exacting standards. The blessing is said to come with the last cup. In India, kathas or scriptural readings are held in homes. Customarily, a savoury snack and ginger-basil tea are served at kathas, which create a gentle web of connection that binds the deity, host and guest. For me, one bite of a luscious date is all it takes to open the gates of childhood memories of Ramadan iftars at the homes of Muslim friends.
In the West, ceremonial gatherings are more personal and, I believe, more authentic as human encounters, because the numbers are small. People leave with pleasant memories of shared times and meaningful interactions. Indian weddings, on the other hand, are characterised by huge crowds and those who attend such crowded events are obliged themselves to invite as many people, thus perpetuating the cycle! Host and guests often have little opportunity tointeract. The guests hand over the gifts, eat and leave.
Hospitality as service
According to Christian mythology, when Christ separated nations into the cursed or those who refused him food and drink, and the blessed, those who received Him, the blessed asked Him when was it that they served him in sickness or peniltude. Christ answered, "Truly, I say to you, as you did it to one of the least of these my brethren, you did it to me." (Matthew 25:40). As we ascended the ladder of hospitality, we first dwelt upon personal hospitality and later ceremonial hospitality. We finally arrive at the idea of hospitality as selfless service. It is the level of hospitality which the Sikhs call nishkama seva and which they embody through their langars, communal kitchens that freely offer hospitality to all.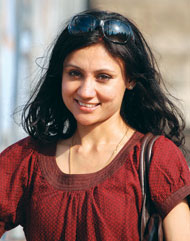 Deepti is a homemaker, yoga
teacher and writer residing in USA.
Writing for her signifies life
which include the swells of joy,
lows of retreats and plateaus
of acceptance
American soup kitchens also embody these values. Soup kitchens are essentially shelters where food is offered for free to the homeless. Recently, a popular television show zeroed in on a soup kitchen that offers food to about 150 people everyday – all cooked diligently by 80-year-old volunteer, Miss Georgie, inside a tiny kitchen with very basic equipment. Freezing temperature or broken arm, she turns up every single day to show the world what selfless hospitality is all about.
Sages and saints in India are known to feed all who come to their door. Shirdi Sai Baba personally oversaw the communal feeding of hundreds of his devotees. Despite being a renunciate, he cooked and served delicious meals to assuage the hunger of the belly as he did to address the one of the soul. He would say that feeding others nourished his deepest being. Saint Sampson was the son of rich and illustrious Roman parents who turned his own house into a clinic, refuge and free food centre.
Cultures ancient as well modern take justifiable pride in extending kindness to strangers who turn up at one's door. A cup of tea, cookies and some comforting soul talk in a friend's home can go a long way towards giving each one of us the strength to reinvigorate us for our journey ahead. As David Rynick, life coach and Zen teacher reflects, "If we are serious about creating a more just, equitable, and compassionate world, we have to start with the room we are in."
See more articles on Community :
http://www.lifepositive.com/Articles/Community