Emotional Freedom Technique - EFT is not the healer, love is
by Jasmine Bharathan
Emotional freedom technique (EFT) is a relatively recent healing modality that has taken the world by storm. a few taps and affirmations have healed lifelong emotional and physical traumas the world over. Meet the man behind EFT: Gary Craig

Download PDF Format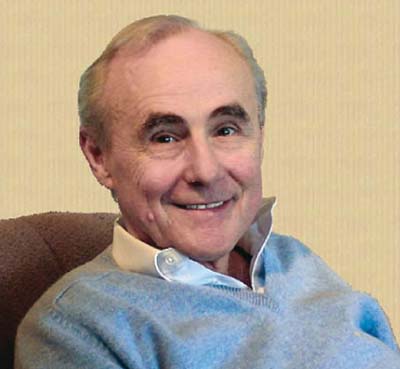 I was first introduced to EFT® in 1996-97, to address a health challenge. Not only did it vanish, but in the process I dealt with my anger, became mentally and emotionally more peaceful, and most important of all, began to feel a deeper sense of acceptance of myself and of life. This seemingly simple method restored balance in ways that I had never before experienced!

EFT stands for Emotional Freedom Technique. It is a simplified and 'user-friendly' version of Dr Roger Callahan's TFT® (Thought Field Therapy) based on the principles of ancient Chinese acupuncture, but without the use of needles. We gently tap some of these acupuncture points on our body with our fingertips, while focusing on any emotional disturbance or pain we might be experiencing. This is said to help balance the body's energy system. The body system as a whole, then heals itself.

Gary Craig, the creator of EFT, was a Stanford engineer with a keen interest in healing and well-being that led him to TFT. He then went on to simplify it to what we now know as EFT, popularly called 'Tapping'. Since the mid-90s, he has been freely sharing EFT with one and all through his website, seminars and other methods. From about 20 people using EFT, today there are hundreds of thousands of practitioners around the globe using it for healing purposes, and many more using it as a self-help method.

In India, although we don't know the exact number, it is estimated that there are already thousands of tappers. I personally know many psychologists, homeopaths, healers, EFT practitioners and doctors who are sharing EFT. Students in schools are tapping to relieve their anxieties and fears so as to explore their own individual potential, the corporate world is embracing EFT to help deal with daily stress and be more productive, yoga practitioners are using EFT to release any constriction in breathing, and to relax and calm the mind, so their meditation and pranayama practices are experienced deeper.

It is an honour to present to you this conversation and a peek into the man behind EFT, someone I have journeyed with for the last 12 years.

Gary, you have single-handedly facilitated emotional healing worldwide by making EFT available practically for free. How does it feel to witness this happen?

Oh, it is extraordinary. When I first started doing this in the mid-90s, I saw this as a spectacular tool. I couldn't imagine putting a big fence around it; this is a very shareable type of thing. Just yesterday, I got an email from Deepak Mustaq in Indonesia, who is applying EFT to 84,000 traumatised children through 6,000 different teachers. I can't tell you how good that feels to have happen.

Last year was a giant step in the history of EFT. You now offer certification.

Well, when I started doing this, I had no idea that anybody would ever want to be certified – we were just 20 people using it! Now we are approaching 5,00,000 people only on our newsletter list. People would ask me, "Can I do a workshop?" and I would say, "Sure!" There were various workshops teaching EFT around the world; unfortunately, not in a standardised way. I eventually saw that I need to have one high quality source for certification. It has been a really important thing to help standardise what is going on. I also have an Open Hand Policy on our website which gives everybody a wide open way to use it but still maintains its credibility.

I have often heard you say, years ago, that "we are on the ground floor of the healing highrise; we are still discovering how these things work". Are we still on the "ground floor?"

Yes, I think we are. We are not using EFT and other creative innovations for a more spiritual destination – that is the penthouse, a more spiritual place. I don't think conventional science is ever going to be able to truly explain what we are doing with EFT. Because I think we are dipping outside of conventional science.

The effectiveness of EFT is a non- issue now! We all know it works. But regarding the mechanics of it, Gary, do you think there is a neuro-biological basis for this or a spiritual, holistic one?

A number of people are trying to explain it in terms of the medical model. When I hear that, I ask them how that explains the experience that I can sit here in California, tap for someone in Israel with a sore neck, and he gets better, and yet, that person isn't being tapped on. For me to be able to do this on myself, and get a result on somebody else, is not conventional science.

From the EFT cousins that are listed on your website, which are the other modalities that you consider important?

I don't use any of the other techniques. I have been exposed to them and tried them over time. It is your skill in breaking things down to manageable specific events and understanding the core issues that determine your effectiveness.

After a period of time, in my experience, my intuitive tendency is to deviate from classic EFT and still use it in a way that it flows at that time. People have found this to be equally effective.

I encourage that. I have been doing that for years. I also think that it is important that every practitioner has a firm understanding of the basics of EFT; that's the launching pad from which your intuition can really take shape.

EFT is being increasingly used by doctors, psychiatrists, spiritual healers and homeopaths. Yet you have discouraged us from going into psychiatry, for instance, by telling us: "Don't go where you don't belong".

Some newcomers might be tempted because they are using their fingertips tapping on EFT points and they find people's headaches go away, lifelong angers and traumas vanish. And they may get a sense of, "Oh, I can take care of everything." But that person has no business going into a psychiatric ward, trying to help people with schizophrenia, or other types of serious disorders. So you don't go where you don't belong.

There are several research programmes undertaken around the world with EFT. Do you think this will help bring it to mainstream health field in a more scientifically accepted way?

Sure. And that's the reason we are doing all the research. We didn't do that for years. We were just too busy getting results. Now we have probably 10 or 12 quality research articles that are published in peer review journals, another half a dozen or so going on and more planned in the future. It won't be long before we have enough validating research.

Have you read something interesting recently that you would like to share – not EFT-related!

I have one book, a spiritual book that I study – called A Course in Miracles which explains spirituality in ways that means a lot to me. My EFT work is a reflection of its principles. For example, our EFT manual is free for anybody. It is translated into 26 different languages, all done voluntarily. And there are one or two translations even for languages in India.

Yes, in Hindi and Gujarati. Yes. And our DVDs are not very expensive and can be copied.

So there is a connection between your EFT work and your spiritual journey.

Yes, because there is always a connection between what anybody does and their spiritual journey, if they are serious about their spiritual journey.

Your daughter Tina's role in your EFT work – how did she get involved?

We started growing to the point where I just couldn't handle all the inquiries from around the world. Tina is very talented and a very quick learner. She handles our entire certification process and vast majority of our correspondence with people. If it hadn't been for her, I would have had to close this down a long time ago!

Do people in your immediate family see you as the man behind EFT or do they see you in a different way?

They don't see me as anything other than what I am. My family is not large. I have three children and an ex-wife. We get together for Christmas and holidays and I talk to my kids with some frequency.

Would you share any memorable moments in your journey of life?

I'll tell you what really sticks out. When I was 17 or 18 years old in high school, I was part of a football team that wasn't supposed to be able to do anything. All the star players had graduated, we were just left with a bunch of young players, not expected to do anything, and we ended up being the fourth ranked team in southern California! We did that not because we were great athletes – we weren't – but because we were a team. We didn't have anything special except our teamwork. That was an event that has been with me to this day. I am also putting that very experience into EFT because I consider you and I, even though we are thousands of miles apart, Jasmine, as teammates.

To me, EFT is a ladder whose ultimate destination is spiritual awareness. EFT is not the healer, love is. We can use EFT to reduce the angers, guilts, traumas etc. that stand in the way of love. Each time we do this, our spiritual quest becomes easier

Gary Craig's Free EFT manual, newsletter and thousands of articles are available on his website: http://emofree.com Jasmine Bharathan is a therapist. She uses EFT and TAT extensively in her work. Meditation and awareness practice is at the core of her life. Contact: http://heal-empower.com. Her free EFT online support forum: http://tinyurl.com/TapIndia.