Feminism - Force Feminine
by Life Positive
Over the years, by holding fast to their feminine essence, many women have contributed to our evolution and helped raise collective consciousness. We profile some of them

Download PDF Format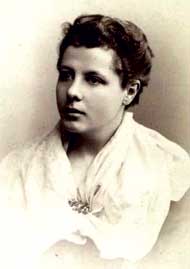 Irish body, Indian soul
Annie Besant

Annie Besant was rightly described by her Indian admirers as an Indian in an Irishwoman's body. Besant, along with Madame Blavatsky, played an important role in educating Western societies about the existence of spiritual paths and perspectives that differ from the Judeo-Christian tradition. A spokesperson for ancient Indian spiritual tradition and its mysticism, she played a seminal role in spreading ideas like the power of mantras, yantras and the efficacy of meditational approaches through her lectures across the world. A trade unionist, theosophist, advocate of birth control, women's rights activist, writer, orator and supporter of Indian freedom from the British, she was born Annie Wood in 1847 in London into a middle-class Irish family. At 19, she married Frank Besant, a vicar, only to separate from him shortly because they disagreed on religious matters. Annie Besant met Helena Blavatsky in 1889 and over the next few years her interest in Theosophy grew and she travelled to India. In 1908, Besant became president of the Theosophical Society and became involved with the Indian National Congress of which she was elected president in 1917. Besant distanced herself from the Buddhism of the founders of the society and steered the movement towards Vedic thought.

In April 1911, Annie and Pandit Madan Mohan Malaviya met and formed the Benaras Hindu University. In 1909, soon after Besant's ascension to the presidency of the Theosophical Society, an associate declared that 14-year-old Jiddu Krishnamurti was the new teacher promised to humanity. Krishnamurti considered Besant a surrogate mother - a role she happily accepted. The two remained friends until the end of her life in 1933.
Read more about Annie Besant on www.occultopedia.com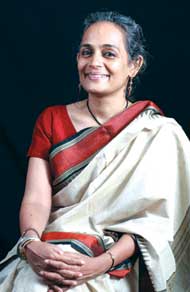 Voice from the left
Arundhati Roy

Arundhati Roy (born 24 November, 1961) is a Booker prize-winning Indian novelist, actress and aerobics instructor known for speaking her mind for the rights of those marginalised by western capitalist-military alliance and statesponsored repression. While her approach and her views fall short of being holistic or spiritual, she finds mention here because of her keen eye and bold tongue, that see and speak the truth, her capacity to see through the illusion of capitalism and for championing the underdog. She won the Booker Prize in 1997 for her novel, The God of Small Things. She has also written two screenplays and several collections of essays on various social, environmental and political issues that have attracted considerable controversy in India and abroad.

Arundhati Roy was born in Shillong, Meghalaya, India, to a Keralite Syrian Christian mother, the women's rights activist Mary Roy, and an Indian Bengali Hindu father, Ranjit Roy, a tea planter by profession.

In an interview with a popular Indian daily published in August 2008, Arundhati Roy expressed her support for the independence of Kashmir from India. Roy has campaigned along with activist Medha Patkar against the Narmada dam project for which she donated her Booker prize money as well as royalties from her other books.

Environmental historian Ramachandra Guha has been critical of Roy's Narmada dam activism. Roy counters that her writing is intentional in its passionate, hysterical tone: "I am hysterical. I'm screaming from the bloody rooftops. And he and his smug little club are going 'Shhhh... you'll wake the neighbours!' I want to wake the neighbours, that's my whole point. I want everybody to open their eyes."
For more on the Narmada agitation log on to www.narmada.org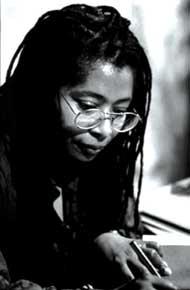 When the wounds sing
Alice Walker

Alice Malsenior Walker (born February 9, 1944), is an African-American author and poet whose writing has a stirring meditative quality leavened with sudden flashes of insight. Walker has written at length on issues of race and gender, and is most famous for the critically acclaimed novel, The Color Purple, for which she won the Pulitzer Prize for fiction. Walker's all-embracing vision includes her Buddhism, her bisexuality and her blackness, making her a unique New Age voice. Her mother worked 11 hours a day a week to help pay for Alice's college. A white plantation owner once asserted to her that blacks had "no need for education." Mrs Walker's response to him was 'You might have some black children somewhere, but they don't live in this house. Don't you ever come around here again talking about how my children don't need to learn how to read and write." Stared at and sometimes taunted because of a scar in her eye, Alice felt like an outcast and turned for comfort to reading and to writing poetry. She realised that her traumatic injury had some value: it allowed her to begin 'really to see people and things, really to notice relationships and to learn to be patient enough to care about how they turned out'.

In 1982, Walker would publish what has become her best-known work, the novel The Color Purple. The book became a bestseller and was subsequently adapted into a critically acclaimed 1985 movie as well as a 2005 Broadway musical play.
Know more about Alice Walker on her offi cial website alicewalkersgarden.com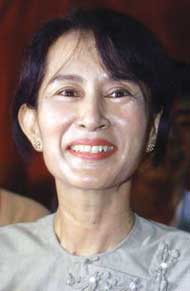 Torchbearer of justice
Aung San Suu Kyi

Aung San Suu Kyi, the leader of the struggle of the Burmese people against the military dictatorship in their country, is an iconic figure known across the world. Her non-violent, democratic movement has been suppressed by the Burmese junta intent on retaining its hold on the country. Her emphasis on servant leadership, ethical conduct, value-based politics and complete adherence to the principle of nonviolence makes her a New Age leader like Mahatma Gandhi and Martin Luther King Jr. Like them, she brings spiritual principles that were earlier considered too lofty to be used in the rough and tumble of agitational politics. Her shaping of politics can be seen as the unfolding of the forces of light into ordinary human consciousness. Not surprisingly, Suu Kyi's release was welcomed by the world media.

Aung San Suu Kyi, born on 19 June, 1945, is the daughter of one of the Burma's most cherished heroes, the martyred General Aung San, who led his country's fight for independence from Great Britain in the 1940s. After he was murdered in 1947, Suu Kyi took on his mantle. Her calm but passionate advocacy of freedom and democracy in the country now called Myanmar, against one of the most insensitive and brutal military dictatorships in the world, won her a Nobel Prize for Peace in 1991.
Read Aung San Suu Kyi's detailed profi le on www.nobelprize.org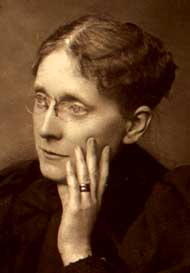 Poet of light
Ella Wheeler Wilcox

Poet, mystic, occultist and an early New Ager, Ella Wheeler (November 5, 1850– October 30, 1919) was born in a farm in Wisconsin, the youngest of four children. She began writing the poems that have been a source of inspiration to millions of her admirers at a very early age. However, it was only on February 25, 1883, with the publishing of her poem, Solitude in The New York Sun that her reputation as a poet was established. At the age of 28, she married Robert Wilcox.
 
 
So many gods, so many creeds, so many paths that wind and wind while just the art of being kind is all the sad world needs.
- Ella Wheeler Wilcox
 
 
The only child they had – a son – died shortly after his birth. The couple became interested in Theosophy and husband and wife decided that whoever died first would contact the other to confirm that death of the body was not the end of life itself. Months after Robert Wilcox died in 1916, she wrote an affirmative prayer that she said over and over "I am the living witness: The dead live: And they speak through us and to us: And I am the voice that gives this glorious truth to the suffering world: I am ready, God: I am ready, Christ: I am ready, Robert."
While cancer claimed Ella Wheeler Wilcox, poetess extraordinaire, on October 30, 1919, her poems continue to breathe with immortal life.
Read Ella Wheeler Wilcox's poems on www.poemhunter.com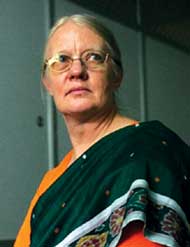 Divine forgiveness
Gladys Staines
In the morning of January 23, 1999, newspapers screamed out the deaths of an Australian missionary Graham Staines and his two young boys, Phillip(9) and Timothy (7). They were burnt alive in their vehicle by religious extremists in Orissa.
India hung its head. The heinous murder reflected shamefully on our much-vaunted standards of hospitality and humanity. The murder condemned us as a nation itself. Which is why Gladys Staines, the widow of the missionary, is an iconic figure. Soon after the killers were identified and sentenced, she issued a statement saying that she had forgiven them and held no bitterness against them. Her statement came as a powerful and positive shock to the national system. It redeemed us from our collective guilt but more, it earned our awe and admiration. In an interview with Life Positive she said, "When I heard that the family was dead, I told Esther, my daughter: 'We'll forgive those who killed them, won't we?'" And she said: "Yes, Mummy, we will." She adds, "Forgiveness brings healing. If I forgive you, the bitterness leaves me. It also allows you to move on. Forgiveness liberates both the forgiver and the forgiven." Sometimes it takes just one act to raise human consciousness. By choosing forgiveness instead of revenge in a moment of extremis, Gladys Staines elevated us all.
Read more on Gladys Staines on www.lifepositive.com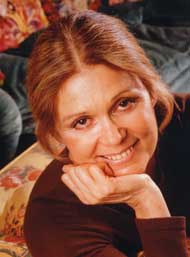 From Miss to Ms
Gloria Steinem
Gloria Marie Steinem (born March 25, 1934) is an American feminist, journalist, and social and political activist who became nationally recognised as a leader of, and media spokeswoman for, the Women's Liberation Movement.
In acknowledging Steinem we acknowledge all those who have fought for women's rights dauntlessly. It is they who made it possible for women to leave behind the shackles of domesticity and blaze a trail into almost every male bastion.
A freelance journalist and later founder editor of the feminist journal, Ms, Steinem actively campaigned for the Equal Rights Amendment, in addition to other laws and social reforms that promoted equality between women and men, helping to strike down many long-standing sex discriminatory laws, such as those that gave men superior rights in marriage and denied women equal economic opportunities. She also founded and co-founded many groups, including the Women's Action Alliance, on which she served as chair of the board throughout the 1970s. In her later years her attention shifted to self-introspection leading her to write the book, Revolution from Within: A Book of Self-Esteem.
Ms Steinem continues to involve herself in politics and media affairs as a commentator, writer, lecturer, and organiser, campaigning for candidates and reforms and publishing books and articles.
Visit Gloria Steinem's webiste www.gloriasteinem.com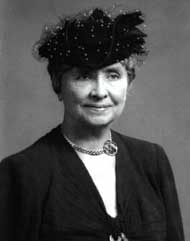 Indomitable visionary
Helen Keller
Helen Adams Keller (June 27, 1880 – June 1, 1968) was an American author, political activist, and lecturer. She was the first deaf-blind person to earn a Bachelor of Arts degree. The inspiring story of Keller's life found repeated mention in inspirational books that included some authored by her. Later described as selfhelp literature, these books took over somewhat the role traditionally played by the elders, church and priests. The story of how Keller's teacher, Anne Sullivan, broke through the invisible walls imposed by a near complete lack of language, allowing the girl to blossom as she learned to communicate, has become widely known through the dramatic depictions of the play and film, The Miracle Worker. Keller was not born blind and deaf; it was not until she was 19 months old that she contracted an illness that left her deaf and blind. Michael Anaganos, the director of the Perkins Institute for the Blind, asked former student Anne Sullivan, herself visually impaired and only 20 years old, to become Keller's instructor. It was the beginning of a 49-year-long relationship. Keller's big breakthrough in communication came the next month, when she realised that the motions her teacher was making on the palm of her hand, while running cool water over her other hand, symbolised the idea of 'water'; she then nearly exhausted Sullivan demanding the names of all the other familiar objects in her world. Keller was later to say that she always knew Christ in the dark years but did not know his name.
Read more about Helen Keller on www.helenkellerfoundation.org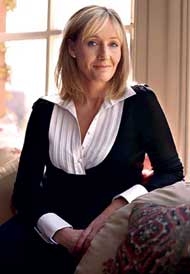 Enchantress of Edinburgh
Jk Rowling
JK Rowling is a British author best known as the creator of the Harry Potter fantasy series, the idea for which was conceived on a train trip from Manchester to London in 1990. She finds mention here for bringing magic back into a world bereft of it by the embrace of a materialistic and separatist worldview. While masters like Tolkien and CS Lewis had kept the banner flying, it was with the coming of Harry Potter that the West truly awakened to the enchanted world of wizards, wands and flying brooms which also makes Rowling the most prominent storyteller of the New Age. The Potter books have gained worldwide attention, won multiple awards, sold more than 400 million copies and been the basis for a popular series of films.
Rowling is as famous for her rags-to-riches life story, in which she progressed from being a single mom living on benefits to multi-millionaire status within five years. As of March 2010, when its latest world billionaires list was published, Forbes estimated Rowling's net worth to be US$1 billion.
While critics have accused her of popularising witchcraft, she has publicly declared herself a church-going Christian who continues to have episodes of doubt.
Log on to www.jkrowling.com to know more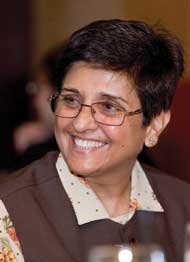 Ray of hope
Kiran Bedi
Kiran Bedi has many firsts to her credit. She is the first woman IPS officer in India, first woman head of Tihar, the largest prison in Asia-Pacific, and the first person to introduce vipassana meditation inside Tihar, turning the conventional attitude towards crime on its head. Her approach has always been brave, humane and also spiritual. Winner of the 1994 Ramon Magsaysay award, Kiran Bedi's eventful life has been chronicled in her biography, I Dare. She has also written, It's Always Possible, a chronicle of her Tihar experiment. She exemplifies the archetypal tough mother in her approach to policing, which is unwaveringly firm as well as compassionate.
"I have really lived from match to match. Not to beat others, but to challenge myself. I set my own goals. And when I'm reaching a goal, I put it further away to see whether I can stretch myself a bit more. I was confident that whenever I put in that extra effort that hurt, I could realise that my hard work is paying. For no work is hard work till it hurts," she says.
Kiran Bedi's initiative is among the first exercises in reformative justice in the country. "Policing is not sending people to prison. Policing is to show them the route to correction, maybe through the prison," she once explained.
Read more on Kiran Bedi www.Kiranbedi.org or www.kiranbedi.com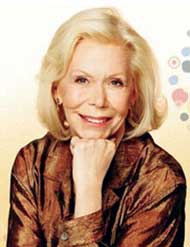 Mother of all healers
Louise L Hay
History will remember Louise L Hay as one of the early and most popular proponents of the body-mind link. Her 1976 book, Heal Your Body, enumerated a remarkable list of ailments and their metaphysical causes. Cancer, she asserted, was caused by deeply held resentment, while asthma had its roots in not feeling safe. For a world convinced that ailments were caused by germs and cured by a pill, this was radical. Over the years, her findings have been supported by more and more healers, thinkers and intuitives as they discerned the holistic nature of the body, and, indeed, the universe.
Her book, You Can Heal your Life, an expanded version of the earlier one, is a longstanding best-seller on the New York Times list, and is reported to have sold about 3.5 million copies. Louise Hay is also known for her recognition of the fundamental role of self-esteem in determining happy and healthy lives and for popularising the use of affirmations as a spiritual path.
Her own life story is dramatic. Growing up poor, she was raped by a neighbour at age five. At 15, she dropped out of high school without a diploma, became pregnant and, on her 16th birthday, gave up her newborn baby girl to be adopted. Later, she became a successful fashion model.
In 1977 she was diagnosed with cervical cancer. Refusing conventional medical treatment she practiced forgiveness, coupled with therapy, nutrition, reflexology and occasional enemas. She claims to have healed herself of cancer through this method.
Her work supporting AIDS patients, called Hay Rides, brought her to the attention of Oprah Winfrey and Phil Donahue and put her book on the best-selling charts. She also runs Hay House, a publishing house whose authors include Deepak Chopra and Wayne Dyer. At 84, she remains her own best advertisement for the vibrant effects of positive thinking.
Visit Louise Hay's offi cial website www.louisehay.com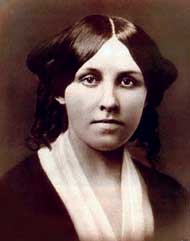 Transcendental pap
Louisa May Alcott
There cannot be too many girls, or even boys for whom Little Women and its sequels Good Wives, Little Men, and Jo's Boys, did not afford hours of joyous reading. The story of four sisters growing up in mid 19th century America touched and continues to touch a deep chord in all hearts because of the authenticity of the characters and the deep warmth it emanates of a loving and vibrantly alive family. But what makes Louisa May Alcott eligible to belong to a list of consciousness shifters is that she was the daughter of transcendentalist and educator Amos Bronson Alcott and her early childhood was lived among such marvellously evolved souls as Ralph Waldo Emerson and Henry David Thoreau. Transcendentalists were deeply influenced by Indian philosophy and embraced its pantheistic worldview. Ms Alcott was an abolitionist (against slavery) and an early feminist whose rebellion against the prim code of conduct laid down for women is vividly expressed in the character of Jo.
Her educationist father had once run an experimental school designed to give children an all-round education that would equip them for life. The experiment may have failed in real life but it lived on in the school, Plumfield, that Jo and her husband Professor Bhaer ran and whose ideas may have influenced countless young minds. Ms Alcott once rued that she had been reduced to writing 'moral pap' for children, but many of us who cherished Jo and her sisters thrived on her 'pap' and are the better for it.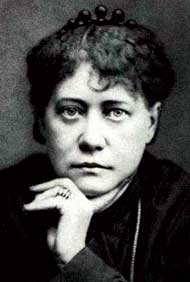 Grandmother of the New Age
Madame Blavatsky
Helena Petrovna Blavatsky (12 August 1831- 8 May 1891) walked out of her threemonth old marriage at the age of 17 and travelled to Egypt, France, Canada, Mexico, India, Greece and Tibet, studying and meeting masters of various spiritual traditions. A free spirit who broke all rules of propriety that women of her time were expected to observe, Blavatsky can be called the great grandmother of the New Age for her contribution to non-denominational spirituality that is fast becoming the norm. In 1874, Helena met Henry Steel Olcott, a lawyer, agricultural expert, and journalist. Together, they founded the Theosophy Society in September 1875. Blavatsky wrote that all religions were both true in their inner teachings and problematic or imperfect in their external conventional manifestations – a declaration that is believed to have laid the foundations of what is now recognised as New Age thinking. Blavatsky and Olcott took five precepts at the Wijayananda Viharaya located in Galle on May 19, 1880, and formally became Buddhists.
Among the other things that she said were the words: "Keep the link unbroken! Do not let my last incarnation be a failure." May 8, the day she died, is celebrated by theosophists as the White Lotus Day.
Read more on Helena Petrovna Blavatsky on www.blavatsky.net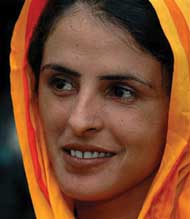 Trench warrior
Mukhtaran Mai
Mukhtaran is a gritty warrior fighting a pitched battle against patriarchal forces.
While her battle is being fought in Pakistan, it could well have been in India where the situation is nearly as bad. It is telling that Mukhtar Mai in Urdu translates into 'Free Mother' in English. In 2002, Mukhtar Mai was gang raped on orders of a tribal council in a village in Pakistani Punjab. Her brother was allegedly in a relationship with a woman of another clan and the tribe thought the rape to be a just punishment. Instead of committing suicide or living in shame, Mukhtar spoke out, fighting for justice in the Pakistani courts. Her refusal to be cowed down made headlines in the global media. Battling the forces of patriachy in her village she started two schools for girls in her village and a crisis centre for abused women. Mukhtar, who had never learned to read but knew the Koran by heart, realised that only a change in mentality would break the brutal, archaic traditions and social codes that kept women down. Half the Sky by Nicholas D Kristof and Sheryl WuDunn and Mukhtar's memoir In the Name of Honour chronicle her story.
To know more about Mukhtaran Mai visit www.mukhtarmaimmwo.com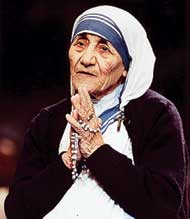 Mother extraordinaire
Mother Teresa
Mother Teresa came to India in 1929 at the age of 18. However, she realised early that teaching children who would get educated anyway was not what she was meant for. She once saw an old woman abandoned by her family on the streets. Her heart and soul cried out and she took charge of the unfortunate soul and Nirmal Hruday – a place for the abandoned to die in dignity – was formed in 1952. The foundation laid by Nirmal Hruday grew into the order called the Missionaries of Charity. Her extraordinary commitment to the welfare of the poorest of the poor for over 50 years (1946 to her death in 1997) has been a source of deep inspiration and admiration across the world, making her a global symbol of love in action. In recognition of her efforts, Mother Teresa was awarded the Padma Shri in 1962, The Pope John XXIII Peace Prize in 1971, the Nobel Peace Prize in 1979, the Presidential Medal of Freedom in 1985, and the Congressional Gold Medal in 1997. In 2003, she was beatified by the Pope John Paul ll, placing her a step away from sainthood.
To volunteer with the Missionaries of Charity log on to www.motherteresa.org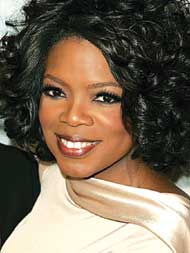 America's high priestess
Oprah Winfrey
She is called, with reason, the most influential woman on the planet. Consider: any book she endorses sells at least another million copies. Her support of Barack Obama's presidential candidature won him a crucial million votes that decided his presidency. When she announced that she had stopped eating burgers after the mad cow disease, sales of beef plummeted and the beef lobby actually sued her.
She is also one of the richest women in the US with multiple business interests and has figured time after time in the Forbes list. She appears in this list of consciousness shifters is because she has played a bigger role than almost anyone has in spiritualising America. Her endorsement was greatly instrumental in making The Secret the extraordinary phenomenon it became. And she made history with her webcast of Eckhart Tolle's A New Earth, which brought together millions of subscribers across the world, probably giving a quantum leap to the planet's consciousness levels.
Viewed by more than 20 million Americans (USA) every week and broadcast to over a 100 hundred countries worldwide, the Oprah Winfrey Show is one of the most successful and highest ranked television talk show programmes in history. To her audience of more than 22 million mostly female viewers, she has become a post-modern priestess – an icon of church-free spirituality.
Read more on Oprah Winfrey's official website www.oprah.com
Running her own marathon
Sudha Murthy
Sudha Murthy has stayed true to her role as a supportive wife and mother while she simultaneously pursued her calling as a social worker and writer. Though wife to Narayan Murthy, one of the most successful corporate czars in recent times, her vision as well as professional achievements mark her as her own person. A person of deep spiritual grounding, Sudha Murthy has managed to be as forward looking as she is true to her roots. She presents a refreshing contrast to the stereotypical image of a hard-partying and high-flying entrepreneur's housewife. "My grandfather, a Sanskrit scholar, would recite a shloka that said Krishna is respected only because he carved an identity for himself," Sudha Murthy has said. Shunning labels, including that of a feminist, she admits that she often wishes she had spend more time with her children when they were growing up. For over a decade, her efforts have been directed towards changing the lives of children in rural Karnataka by giving them access to hygienic, wholesome food and education, and has, meanwhile, authored 92 books that have been translated into almost every Indian language. Sudha Murthy will be remembered for her refusal to be identified with wealth and for remaining true to a value system that prioritises humanity and the larger good. In these money-mad times she is a refreshing new model of what a plutocrat can be.
To know more about Sudha Murthy-led Infosys Foundation on www.infosys.com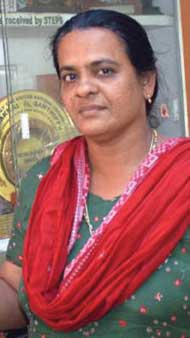 A mosque for women
Sharifa Khanum
Sharifa Khanum has the unique distinction of creating India's first ever all-woman mosque. By creating this unique jamaat, an assembly of believing women, Sharifa has struck a blow to the deep-rooted Muslim patriarchal hegemony. In the Muslim world, this is not a simple task as the patriarchal order insists that women always be accompanied by men. Today, she heads the Tamil Nadu Muslim Women's Jamaat, a network of some 25,000 Tamil Muslim women that is engaged in struggling for Muslim women's rights and empowerment.
Sharifa was born in a small town in Tamil Nadu in 1964 in a family of modest means. She decided to work towards the formation of an all-woman jamaat because there were enough all-male religious associations around. After all, women felt more comfortable opening up to other women. Sharifa, however, stresses the importance of not wearing religion on one's sleeve. "I have never felt I should address only Muslim women's issues and neither do I cling to my Muslim identity. There are wrongs and problems everywhere and this is what I hope to address," said Sharifa Khanum.
Learn more about the effect of Sharifa Khanum's work on www.mwnuk.co.uk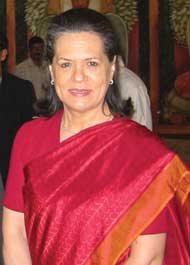 Leader with a difference
Sonia Gandhi
Although reluctant to let her husband get involved in politics, Sonia Gandhi, whom many of her supporters wanted to be PM, assumed the leadership of the Congress. She made Sardar Manmohan Singh the PM, silencing the shrill Khalistani lobby. Displaying a refreshing disinterest in power, she refused to sit on the PM's chair, a stance she has reiterated several times, including recently when the DMK government attempted to intimidate her by pulling out of the government. Replying that she did not care if the government fell or not, but would not have the party's prestige hurt, she effectively put the DMK in its place. Often called Saint Sonia for her ethical stance in the hurly burly of political life, she is an example of a leader who remains a woman first. A typical example of her caring nature is the appointment of journalist Javed Abidi at the head of the Rajiv Gandhi Foundation's disability unit. Wheelchair-bound, he visited her for an interview, where he told her that it was because he came from an affluent family that he could afford to go to the disabled-friendly US for a useful education. After the interview, Sonia gently asked him if he would be interested in heading the Rajiv Gandhi Foundation's disability unit. Abidi accepted the offer after giving it thought and has led several initiatives in this direction.
Sonia displayed her moral mettle by backing the clemency plea made by LTTE terrorist Nalini Sridharan who was part of the group that assassinated Rajiv Gandhi. Nalini's husband was also convicted in the case and their daughter is likely to be orphaned if the death plea is carried out.
All through her political career, Sonia has remained a picture of quiet dignity.
Read more on Sonia Gandhi on www.soniaindia.com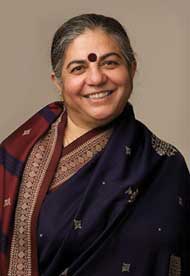 Daughter of the soil
Dr Vandana Shiva
Physicist and author of over 200 books, Dr Vandana Shiva is a seminal ecological thinker. She is special in her emphasis on the role of spirituality in the practice of deep ecology. Her approach is woman-centric, cooperative, local and one that promotes diversity and honours tradition. She has opposed imperialist-capitalist values that seek to dominate the world through the control of crops. Born in Dehradun, to a conservator of forests father and a farmer mother, Shiva participated in the nonviolent Chipko movement in the 1970s. In the book, Vedic Ecology, by Ranchor Prime she emphasises the wisdom inherent in several traditional practices, and pointed out the relevance of the Vedic vision in the restoration of ecological sanity. Navdanya, a seed bank formed by her, has worked with local communities and organisations in the Uttarakhand Himalayas, and has resulted in the conservation of over 2,000 rice varieties across the country. Navdanya, which has over 70,000 farmers as its primary members, now has 34 seed banks in 13 states across the country. An ecofeminist, Shiva has put the light firmly on the woman farmer who is the repository of traditional agricultural wisdom that is ecologically sound as well as spiritually profound.
Know more about Navdanya and Dr Vandana Shiva at www.navdanya.org
See more articles on Feminism at :
http://www.lifepositive.com/Articles/Feminism