Feminism - Iceberg Seekers
An interview with Swati Chopra whose book, Women Awakened, explores the domain of women and spirituality

Download PDF Format
It is not often one gets to interview one's former colleague. Swati Chopra has been editor of our now defunct quarterly, Life Positive Plus, and later was a contributing editor to this journal before moving out into her own as a full-time writer.

Life Positive was Swati's first job, but even as a trainee, it was clear that her heart belonged to spiritual journalism. She strongly resonated with the matter in the magazine and practised its values in her personal life. She belongs to that precious band of trailblazers for whom work is not just a means to an income but is an expression of her being.

Everything she has written both in the publications she worked in and as an independent writer of books such as Dharamsala Diaries (Penguin 2007) and Buddhism: On the Path to Nirvana (Brijbasi Art Press, New Delhi; Mercury Books, London, 2005), reflects her powerful commitment to creating awareness of holistic living.

Her latest book, Women Awakened, explores some of the subjects dealt with in this special issue: is there a difference in the way women approach spirituality and the way men do? Are women discriminated against in the spiritual domain?

In this interview, Swati Chopra attempts to throw light on these issues:

What led you to write a book on women and spirituality?

The main motivation was to explore the issue of gender and spirituality. On the path, does it matter if you are a man or a woman, and if yes, how? The quest was personal too – as a woman and a seeker, I wanted to know the terrain for myself, and in writing about it, wanted to share it with other seekers. Though there are books available about women teachers and gurus, they tend for the most part to be hagiographies written by disciples. I wanted to question the women, and have in-depth conversations, which formed the raw material for subsequent contemplation and the writing.

Another motivation was to record a spiritual version of 'herstory'. Because history has almost always been written by men. Women – their perspectives, their voices, their experiences – have been glossed over. This is true of spirituality too. I remember once going to a seminar on Banares, and a leading scholar was enumerating spiritual luminaries of that ancient city from the Vedic age to the present. And there was not one woman on his list until Anandamayi Ma in the twentieth century. Were there no spiritual adepts who were women, or were they simply unrecorded? So, this lacuna does exist.

What are the key insights that you stumbled upon in the course of writing the book?

There are several, but here I will mention three key ones. One, that there is a women's spirituality that is different from men's. I was not sure about its existence in any concrete way when I started out. We walk the path to some extent in our bodies, and this has an impact on how we experience, what we experience. For instance, not being allowed certain teachings because you are a woman, or being considered an inferior aspirant because of it, which amounts to a second-class spiritual citizenship, is a reality for many.

Two, at a certain depth of understanding and practice, gender does become irrelevant. If you like, you can think of gender as a quality, an accent, of being. It can, and does, become transcended. The purely spiritual processes and experiences are similar for men and women, like meditation, or realisation, or enlightenment. There does occur a state of genderlessness, or "genderfulness" to use Sadhvi Bhagwati's way of describing her guru, Swami Chidananda Saraswati of Parmarth Niketan Ashram in Rishikesh. But until then, there is quite a bit of experiencing to be done in this body.

Three, spirituality offers women a far more potent way to liberation (I'm thinking 'women's lib' here) than any waves of feminism have achieved till now. The eight women in the book offer examples of the kind of liberation that is meaningful and enduring because it is based upon a profound, inner transformation. This understanding of liberation, as a fruit of spiritual endeavouring, is a radical addition to the aggregate of social, political, economic, cultural and linguistic freedoms that women's movements have sought, are still seeking, around the world.

How important do you think is the role of women in bringing about the New Age?

The New Age presents an enormous challenge to all of us in terms of the imperative to spiritualise our lives. In this context, I would like to quote Pravrajika Vivekaprana, a senior nun of Sri Sarada Math, who says in the book, "It is up to the women, I believe… It is a question of whether women are capable of looking at themselves from an original point of view… It is not a question of becoming a mother or a sister or a daughter and then not being able to understand whether I can live my spiritual path or not. It's a question of understanding my real identity." I think that is the challenge for us all, women and men.


What do you think are the special qualities that women stand for?

I wouldn't necessarily want to stereotype certain qualities as being a preserve of men and others of women. But perhaps naturally and instinctively, women nurture. They care more, and they tend to prioritise their relationships, which is why many of them are uncomfortable with the idea of upping and leaving on a quest. They'd rather be hidden, iceberg seekers than leave the nest of relationships they are connected with. In this sense, they perhaps have a keener sense for 'interconnectivity'.

Do you think we in India have a special advantage because of the acceptance of the Divine Feminine principle?

Yes and no. We are fortunate to have a robust, living tradition Swati Interview.indd 88 3/23/2011 6:34:37 PM of the Divine Feminine, when it was suppressed and ceased to exist in most cultures around the world. In this tradition, God is very decidedly 'She'. On the other hand, there also exists hypocrisy – we might worship Devi in the temple, but are we able to discern her presence in real women? We must ask ourselves – despite this tradition of the Divine Feminine, why does India have a declining female sex ratio? To me, there is little use worshipping a deity in a sanctum if we are not able to bring that attitude into our daily lives.

If you were to trace the evolution of women this far, what would you see?

In this context, I would like to share a phenomenon I call 'iceberg seeking' in the book and which I feel has been a characteristic of women's spiritual journeys. An 'iceberg seeker' is a woman who walks the path within her being, silently growing in her practice. It all happens so subtly in the under-ground of her life that on the surface everything seems to be as before, except for the occasional peak of compassion or equanimity that blossoms forth spontaneously, a direct result of her secret growth.

When I asked Ven. Khandro Rinpoche, a leading teacher of Tibetan Buddhism and one of the few women to be addressed with the title 'Rinpoche', about this, she said, "I see it as a very clever, skilful way, a woman's way of surviving in a rigid patriarchal society." She gave the example of her father's aunt whom nobody paid much attention to. The moment of realisation came when she remained in unbroken samadhi for three days at the time of death.

So many women are, and I suspect have been, iceberg seekers. Sri Ramakrishna Paramahamsa referred to his wife, Sri Sarada Ma, as an "ash covered cat" in this context. Sarada herself revealed some of this quality of practice to a disciple. "My boy, we are women," she said. "We can't get away from household duties. When I make rice, I first pour enough water in the pot to cover the rice and keep watch over it.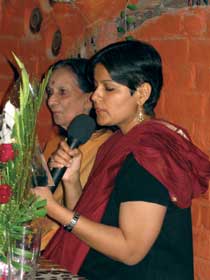 Swati with Mrinalini Sarabhai at her book launch Now and then when I get a little time I do some japa. Then I place a pot of water on the stove to cook dal. Till the water gets hot enough for cooking I am free, and so do a little more japa. Once the dal is cooked I again sit down quietly and repeat the mantra. In this way, somehow, I manage my daily japa. What else can I do, my child?"

What is your hope for the book?

In response, I'd like to quote from the introduction. "This book, and the women whose voices ensue from its pages, are friends of the spirit, sisters of our collective soul. If we are willing to listen, they will sing to us of possibilities and potentialities, of germinating seeds and budding shoots, of what we are and what we can become. Women and men will find something of value, heart-lessons simmering in the heat of honest enquiry, discovered in the crucible of the awakened, aware self."

See more articles on Feminism at : http://www.lifepositive.com/Articles/Feminism