Feminism - Liberating the religious
by Margaret Gonsalves
Although religious sisters have been a powerful source of liberation for the downtrodden and deprived, they themselves are trapped within the patriarchal walls of the catholic church

Download PDF Format

In recent times there has been a significant increase of educated women in India who are forging ahead with greater self-determination on several fronts ranging from the domestic to the global.

I recently met one of our ex-students who expressed her gratitude for the convent school education which she felt had helped her and so many women to make a mark in society. The striking irony is that the religious women (or 'sisters' as they are often called) who have helped liberate so many women are themselves stuck in outdated habits of thinking and behaving.

Given the prophetic thrust of religious life, which began as a countercultural protest, one would expect sisters to be pioneers in the movement to liberate women from the shackles of patriarchy. Unfortunately, this is not so.

Of the 1,26,000 sisters in India, quite a few are doing significant work to empower women through educational, medical and social work in remote areas nearly invisible to the public eye. These sisters struggling for the liberation of women find themselves crippled by oppressive patriarchal structures.

A lesser gender

Preferential treatment is accorded to the son in the family and to the priest in the church. Both as women and women religious entities, sisters are treated as subordinates. The culture of domesticating dependency is perpetuated in religious life.

Most of the sisters in India depend on priests for retreats, spiritual direction, and scripture classes. Church documents and directives from Rome right down to the local level are the handiwork of males.

By and large sisters have to depend on clerical male visioning while their creativity is limited to implementation. Since they cannot be ordained as priests they are deprived of the resources to think creatively and dream prophetically as equal collaborators in the church. In some convents even elderly sisters are expected to get permissions for making phone calls, buying toiletries, outfits, and travel expenses. A mother-child relationship is established keeping the sisters in a state of perpetual religious infancy. Being women, from early childhood sisters are trained in a false sense of humility. This false sense of feminine humility is reinforced in religious formation. They prefer to obey rather than confront the powers-that-be.

Sisters who speak out boldly are silenced; others who stand up for their convictions are sidelined by the authorities. The image of a model sister is more conformist than reformist.

Sr. Joan Chittister, a feminist and an outspoken critic of the powers-that-be, fearlessly challenged the Pope regarding patriarchal church structures and George Bush regarding the Iraq war.

At the Global Peace Initiative for Women Conference held at Jaipur in 2008, she lamented the invisibility of the feminine in solving problems that affect all. "Half the resources of the world, women, are being ignored in the solving of problems that face us all. Or to put it another way, half the world is invisible and the other half doesn't seem to notice. Half the world is mute, and the other half is not even aware of the deafening emptiness of the silence.

And as a result, both halves are suffering from our failure to approach both problems and solutions from the vantage point of the entire human race."

Karen Armstrong had joined religious life to find God but left as the convent with its stifling restrictions was too domesticating for her. Now, as an international peace activist and a leading scholar on Islam, she lives alone but finds her whole life is immersed in God. She is no longer a religious (as those who have taken vows are referred to) but she does live her life religiously.

In their work to uplift the downtrodden, sisters may encourage women to raise their voice to affirm their rights in the family and village, but they themselves are incapable of speaking out in religious circles. Even in areas where sisters are permitted to take the lead most prefer to remain in the background. It is not surprising to find sisters being pulled back from public leadership roles by their own companions because of the patriarchal mindset that has been internalised.

Women bound

An Indian sister who wanted to pursue further studies in spirituality was dissuaded on grounds that their mission was to look after the mentally challenged and physically handicapped. She was told that theology was for priests only and that the waste of money, time, and energy that her stay abroad would involve was not in keeping with the vow of poverty.

While the authorities refused to give a recommendation for a scholarship, she was pleasantly surprised when a bishop made a public appeal for funds on her behalf. On completing her doctorate she was compelled to make the harsh choice of leaving the religious family to which she had dedicated the best years of her life.

Working with a team of priests I realised that sisters were condemned to a secondary collaborative role unless they had sufficient theological background. It did not take me long to discover that we are victims of a patriarchal mindset because the scriptures are written and interpreted by men who have propagated God as male, thus reinforcing societal male domination.

This awareness prompted me to plead with religious authorities to allow me to pursue a doctoral programme in feminist theology in the USA. There was resistance to this plea on all three counts: 1) doctoral programme 2) feminist theology and 3) in USA. Despite a prolonged period of dialogue the permission was not granted. Listening to my inner voice I took the risk of going ahead without permission. I had to face threats of dismissal on grounds of disobedience. Initially, I took the opposition personally and was upset and deeply disturbed. Due to the feminist studies in patriarchy, interaction with various enlightened men and women, exposure to new movements of women's liberation and creative forms of meditation, I awoke to the realisation that the resistance was due to the deep-seated fear of the emerging new consciousness that I would be exposed to with all its consequences.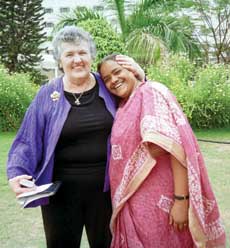 Comrades in arms: Sr Margaret Gonsalves (r) with
Sr. Joan ChittisterA brave New Age

The search for feminist theology exposed me to evolved women and men. I met seekers of various cultures, nationalities and faiths. This opened up my eyes to the dawn of a new era of feminine consciousness. It also led to the discovery that what we need today is a life lived religiously and my earliest model, I realised, was my uneducated grandmother, who was not religious but lived life religiously. She saw God in all things and all things in God. She taught us that every act of kindness is holy. She combed my hair as though she were anointing a queen. Nonviolence, compassion, obedience to God alone, taking a stand for the poor, respect for people of all faiths are some of the profound religious values I imbibed from her. On my return to India after completion of studies I reconciled with my congregation and like Mother Teresa have been officially granted leave to explore 'the call within a call'. Propelled by a dream to start an ashram called ANNNI (Alliance of Nar-Nari-Nisarg- Ishwar or Alliance of Men-Women-Nature-God) to train women to live life religiously, I have initiated projects like empowerment of adivasi girls, women writers' workshops, and feminist theology courses for women and men. The positive response of those sisters who have been part of the above programmes is a sign of openness to the new consciousness.

Men welcome too

Just as women should not be excluded from roles exclusively reserved for men so also the feminine principle is not the exclusive preserve of women. By tapping the feminine genius that resides within each one of us, whether male or female, there is a better chance to evolve a new collaborative leadership with creative approaches to peace building and the environment – the key issues that lie before us. Hence we need to stress feminine principles like love, compassion, collaboration, and interdependence to provide the crucial balance that our world desperately needs in all areas of human life.

Gandhi believed that it was high time that 'feminine' compassionate qualities were developed in a world that had been dominated for too long by 'masculine' aggressive qualities resulting in widespread violence. Echoing the same wisdom, author and activist, Jean Shinoda-Bolen, says: "Empowered maternal concern is an untapped feminine force that the world needs to balance and transform aggression."

Thanks to the immense possibilities of networking in our global village I now find myself connecting with so many other feminist seekers, both male and female, who are living life religiously. Deep bonds of solidarity are building up beyond narrow walls of congregations, religions, cultures and nations. Feminism has been a window to a new feminine consciousness which is spreading throughout the universe. It has opened me to the dance of the divine feminine which is prompting all of us, male and female, to join the birthing process of co-creating cosmic peace and harmony.

See more articles on Feminism at : http://www.lifepositive.com/Articles/Feminism