Feng Shui - Feng Shui for prosperity
by Indira Rau
Prosperity is yours, if you can implement these simple but effective changes based on feng shui, says the author

Download PDF Format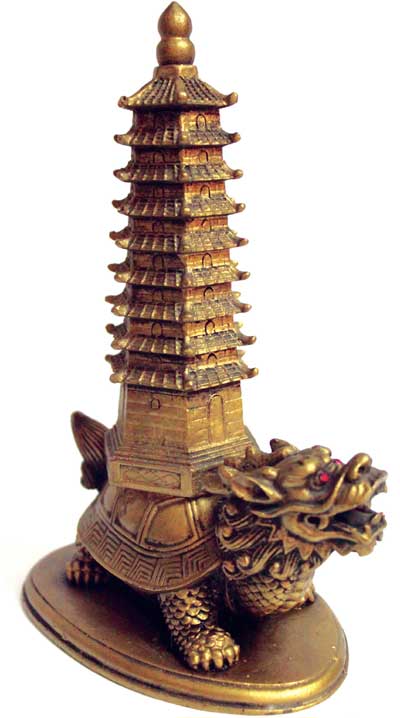 This is the age of high-rise buildings. Most people find living in an apartment more convenient and economical as well as more secure than an independent house. But since we have less control over the various directions of the rooms and doors, it makes sense to avail of a system like feng shui.

Feng shui determines favourable and unfavourable directions based on the birth date of a person. An apartment/house is sought that will benefit the occupants of the home based on these calculations. This information also comes in handy when placing objects/furniture in the kitchen, bedroom and office.

Feng shui (pronounced fung shway) is the art and science of living in harmony with your living space and environment. Feng shui means "wind and water" in Chinese. The ancient Chinese believed that harmonising your life and surroundings with the direction of the flow of water and the movement of the wind helped bring balance and positive energy into your life and home.

Feng shui principles balance your energy with nature and thus integrate your creativity and life. Feng shui seeks to enhance the positive forces of nature and correct the negative ones with the specific intention of promoting better health, wealth and relationships. Extremely popular in many parts of Asia, feng shui masters in Hong Kong, Taiwan, Singapore and Malaysia are regularly consulted for more prosperity, good health
| | | |
| --- | --- | --- |
|   | |   |
| | Ancient Chinese believed that harmonising your life and surroundings with the direction of the flow of water and the movement of the wind helped bring balance and positive energy into your life. | |
|   | |   |
and beneficial relationships to people and businesses. Classical feng shui is a system based on keen observation of heavenly and earthly forces and how the chi (universal life force energy) reacts to these forces. It is the study of time and space dimension.
Prosperity with feng shui
In order to enhance prosperity, you need to make sure that chi flows from your front door to your prosperity power spots without being blocked or diverted along the way. Creating a harmonious path for chi to flow unobstructed involves getting rid of stuff that piles up behind doors, arranging furniture to create a smooth flow through the home and using feng shui cures such as mirrors, wind chimes and crystals to adjust the flow of chi. If you live on a busy street or a T-junction, chi could be rushing aggressively into your house. Without a good flow of chi into your property, it will be difficult for your family to prosper.
You can slow down the aggressive chi by placing a large statue on your property and by placing a water fountain in the yard.
Your front door is called the 'mouth of chi'. The front door is the main way through which chi enters the home. If the main door to your house has bad feng shui, it will restrict you from responding to opportunities and prevent you from exploring areas to increase your income.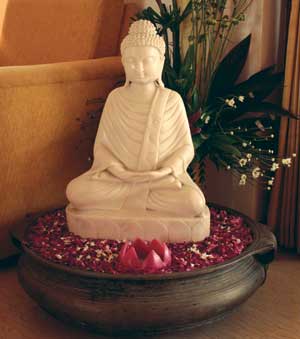 The statue of the Buddha and the presence of flowers help
attract chi
Important points to remember
a) Make sure your front door opens fully and that nothing is stored behind or around it in a way that restricts movement in and out of the house.
b) Avoid keeping garbage or re-cycling stuff near the front door.
c) Keep the area around your front door clean, well lit and attractive.
Even if you have a back door or enter the house through the garage door, make sure to enter through the front door at least twice a week.
The easiest and fastest way to shift the energy of your house so it feels more prosperous is to make sure there are no major issues that may be draining your energy and abundance. In feng shui, even little things that may seem insignificant to you could be having a negative effect on your prosperity. Take care of any repairs that need to be done especially in the southeast and north sectors of your home and office.
For attracting wealth and to enhance prosperity, the southeast area of your home and office should be activated. The southeast of your living room is considered the most powerful spot for your prosperity. If the southeast of your home is cluttered, dark, dingy and generally unappealing and does not have strong chi, it will not be a good power spot. You can correct this problem with good lights, nice paintings, wall hangings and colourful décor. Bathrooms, closets, narrow hallways, long corridors and stairways do not make good power spots.
The southeast which is the sector to enhance wealth and prosperity is associated with the wood element. All kinds of plants are appropriate here, especially those that have gold and purple blossoms. Outdoors, the southeast can be enhanced with bamboo plants, fruit trees, flowers and plants. Placing nine coins (they can either be of the same denomination or different denominations) in the soil beneath a plant, or on a potted plant symbolises growth and will help "grow your money".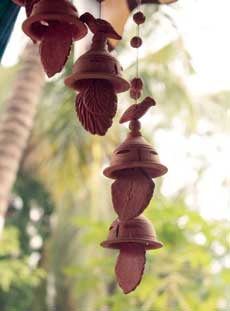 Indoors, enhance the southeast with large house plants, water fountain, the colour purple, beautiful paintings of gardens and lavish landscape. Flags, wooden mobiles, wooden wind chimes are also great ways of activating the wealth sector. Use dark blue, green and purple colours to enhance this sector. Avoid yellow, red and white.
Since water nourishes wood, water features and images are good in the southeast. Water symbolises wealth in feng shui. Moving water brings great prosperity and good luck to the home and business. Water fountains and aquariums are great feng shui enhancements and help activate and balance prosperity chi. 
Prosperity altar
Choose a good spot in the southeast sector of your home to make a prosperity altar. It can be in your office, living room or bedroom. If possible try and find a spot where you can meditate with no disturbance. You can make a prosperity altar on a table, above a shelf, a windowsill or a countertop. Avoid a location that is too close to a fireplace, stove or bathroom as these will burn up or drain away the energy of the altar.
The five elements in feng shui are: earth, metal, water, wood and fire. Include at least one image or item from each of the five in your prosperity altar.
a) Fresh/ artificial flowers or a bamboo flute (wood element)
b) A small tabletop fountain, picture of moving water (water)
c) Candle/incense, lamps (fire)
d) Ceramic bowl/figurine, natural stones and crystals (earth)
e) Coins/ metal figurines (metal)
Cover the altar with a green cloth/green gift wrap paper. Choose more water and wood elements and less of fire and earth. Metal coins are considered lucky in the southeast.
Include one item in your altar that activates each of the five senses:
Sight: symbols, objects and images
Sound: bells, wind chimes, a musical box
Touch: crystals, shells, feathers, fabric
Smell: scented candles, incense, perfume, fragrant flowers
Taste: fresh fruit, nuts, chocolates
See more articles on Feng Shui :
http://www.lifepositive.com/Articles/FengShui