Happiness - When The Heart Sings
by Nithya Shanti
Do the work where your greatest joy and the world's greatest hunger meet." This saying has been my guiding principle for many years. It has taken me along the road less travelled, and this has made all the difference.

Download PDF Format
My spiritual journey began one night as a child when I was contemplating the purpose of my life. A simple answer arose that just filled me with ecstasy, "The purpose of my life is to be happy and to spread happiness."

When I was 16, I attended a meditation course along with my mother. I realised that the missing link between what I knew intellectually and what I actually applied in my life was not a lack of willpower, it was a mind lost in thoughts that was hardly ever in the present moment.

I began meditating daily. I felt much more centred and peaceful. My memory and academic performance improved to the point where I was amongst the best in class. Most importantly, my attitude towards my parents changed from one of judgement to gratitude. I began dreaming of living a simple life devoted to spiritual growth and longed to be a monk!

However, the aspiration had still not completely ripened. I continued with my studies and eventually graduated with an MBA from XLRI, Jamshedpur. I experienced a jet-setting corporate lifestyle for some time. Despite all the outer success, I could see that this was not really my life path. "Don't ask what the world needs, ask yourself what makes your heart sing, because what the world really needs is people with hearts that sing!" My heart sang when I was learning and practising the Dharma – the universal principles of happiness. I realised that if I wanted to be a monk it would have to be now! Or I would be just another person who would regret never having had the courage to follow their dreams.

My parents were not very pleased with my decision, but eventually relented seeing that it was really what I wanted to do. In February 2002, I finally ordained as a monk in a forest monastery in Thailand. I felt incredibly happy and peaceful.

Life there was very different from anything I had known. We woke up at 3 am, ate only one meal a day, and slept on the ground. Most of the time was devoted to meditation, reflection, and study. I learnt and followed the 227 rules for monks, which included not using money in any form, and going on an alms round each day. It was a comprehensive training based on mindfulness and compassion.

My six years in the forest tradition of Ajahn Chah and other masters was an incredible journey of inner growth and flowering. Many assumptions about life changed. The most important part for me was the living example of my teachers. They embodied awareness, loving kindness and gave us confidence that enlightenment was still possible even in this day and age.

After six years of rigorous monastic training, I felt called to serve in broader ways than the role of a monk permitted. With the blessings of my teachers, I stepped out of the robes in 2007. Since then I have been sharing my learning with people around the world in a light-hearted and accessible manner.

Recently, someone asked me, "How do you make a living?" I responded that I gave up making a living a long time back, when I decided to make a life. I chose to never be in a job – to be in joy instead! I have realised that what you can let go of, you can never lose.

Over the years, my quest for understanding the nature of true happiness has led me to study many philosophies and experiment with many meditation practices and therapies. From this wide experience, I now share the principles and practices that I have found to be the most powerful, relevant and effective. The teachings emphasise conscious living, compassion, the power of intention, gratitude, energy psychology tools such as EFT (Emotional Freedom Techniques) and many others.

In my Hadayoli Joyshop ('Happiest Day of Your Life' programme), where the essential teaching is "Be Loving!", everyone spends a day shifting the focus from seeking love and appreciation to offering love and appreciation – and it automatically becomes the happiest day of their life.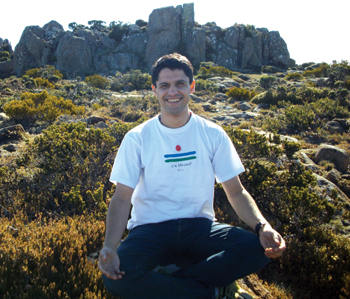 I gave up making a living a long time back,
when I decided to make a life Every day my inbox is flooded with heartwarming messages of healing, transformation, appreciation, and gratitude.

My website, Yahoo! Groups, Facebook, and YouTube videos have all helped me connect directly with thousands of people around the world.

Currently my aim is to share the transformational teachings I have learnt – the things I wish I knew when I was a child. All of us have the seeds of genius within us, awaiting recognition and nourishment. Tools like meditation, concentration, intention, and EFT can help them balance their emotions, unleash the power of their minds, and realise their divine potential.

The secret of happiness I was searching for as a child was hidden within my life purpose itself, "To be happy, stop seeking happiness and start spreading happiness!" When we have clarity of purpose, the universe supports us in inconceivable ways. I encourage everyone to never be afraid of following their dreams, their heart. What the world really needs is people with hearts that sing!

Nithya Shanti is an MBA postgraduate from XLRI Jamshedpur. He trained as a Theravada Buddhist monk in the forest tradition of Thailand and Sri Lanka for six years. He now conducts happiness and EFT programmes, which have deeply touched hundreds of people around the world.

Visit his website www.lovingsilence.org and Facebook Group www.groups.to/happiness

We welcome your comments and suggestions on this article. Mail us at editor@lifepositive.net


Reader's Comments


Subject: my comment - 14 June 2010
incredible!!! how i can know what my heart wants . and then muster courage to do it?
by: hari vishnu gautam