Community - Back To The Future
by Ranjini Banerjee
India's timeless traditions have solutions for our modern problems, and can show the way forward

Download PDF Format
Be it food, lifestyle, education or culture, Indians have always upheld traditional ways, which are equally applicable to the world of tomorrow as they were to our yesteryear. A look at why traditional Indian ways will work for the new emerging world as well.

Most of us do not realise the intense traditional wisdom operative in our day-to-day lives. Starting from the very food we eat that varies with the seasons to the home remedies concocted by our grandmothers for every conceivable illness – this wisdom is at work! Somewhere along the way, we moved away from this traditional lifestyle and the result is there for all to see – lifestyle diseases on the rise, mental, physical, and emotional stress, perilous ecological balance, global warming, and the works!

Historically, India has been a largely sustainable society, and it is highly capable of integrating the modern ways of development with its traditional sustainability to set an example for the rest of the world. Therefore, here is a call to return to the old, Indian traditional ways, and understand why they will work to our maximum advantage in the new world order.

Organic farming
Sir Albert Howard (considered by many as the father of modern organic agriculture) wrote in An Agricultural Testament, "I regarded these (Indian) peasants as my professors. I learnt from them how to grow healthy crops without the slightest help from artificial manures or insecticides." So, then where did we go wrong? Indiscriminate felling of trees for timber, growing dwarf hybrids of grain, artificial fertilisers led to a chain reaction of spiralling costs to sustain the irrigation needs and maintain the yields. Now, the alarm bells are ringing loud and clear as the farmers realise they have lost out on traditional seed varieties, their knowledge of mixed farming methods, and their self-confidence. Several workshops are being organised on organic farming.

Many NGOs and activists are pro-actively helping in bringing back organic farming to the mainstream. Navdanya, an organic farm set in Dehradun, is a case in point. Started by Dr Vandana Shiva, a renowned environmentalist and a qualified quantum physicist, Navdanya is one of the few Indian organisations that has put up a strong fight to retain traditional agricultural practices, and to save heritage seed varieties. Navdanya is active in 14 states in India, helps more than 400,000 farmers, and has saved hundreds and thousands of seed varieties.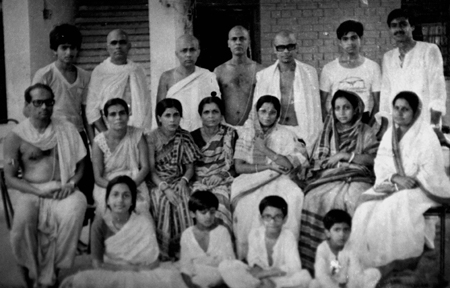 The joint family system - creating a stable society Dr Shiva claims, "India is the land where the concept of ahimsa was born in the teachings of Buddha, Mahavir, and Gandhi. Non-violent organic farming must therefore become the agenda for our civilisation. Organic farming cannot stay restricted to those of us who have built the movement and train the farmers. It must become the conscious choice of all positive thinking and positive living citizens of India. After all, we are what we eat. If we eat organic, we nourish our mind, body, and soul with satvik food."



Using solar energy is a time-tested tool The higher price for organically grown produce is justified if we consider the fact that initial yields through organic farming are low and farmers need this high pricing to cope with their efforts at transition. Although gradually, contrary to the myth spread by the green revolution, biodiverse organic farms produce more food and nutrition per acre.

In addition, at the end of the day, consumers need to realise that organic foods are more value for money as they have higher nutrition in the form of trace element and minerals, which are lacking in chemically grown food. An important lesson to be remembered is that healthy nature is never miserly, but nature wounded must first heal herself before she can regain her lost fertility. Give her time and the results will definitely be worth it!

Sacred groves
Sacred groves are small land areas that range from a few hectares to a few kilometres, protected by local communities as being the sacred residences of local deities and sites for religious and cultural rituals. The groves have served as valuable storehouses of biodiversity, with well developed forest ecosystems and high degrees of species richness.

The sacred groves are shining examples of how community control, belief in age-old traditional values coupled with the slow spread of globalisation can and do have positive outcomes for conservation of common resources.

True learning
Traditional mode of education in the Indian society was through the gurukul system of learning, a type of ancient Hindu school in India that was residential in nature with the shishyas or students and the guru or teacher living in proximity as equals, irrespective of their social standing. Commercialisation, materialism and political agendas have removed the guru-shishya tradition from the education system, but now, hearteningly a revival of sorts is taking place.

A gurukul structure in sync with the modern world would be able to create well-rounded individuals equipped with life skills and a holistic approach to life. Some of the advantages of returning to the traditional way of education are as follows:
• Eco awareness through outdoor classes • Stronger relationship between student and teacher • Development of team spirit free of boundaries of class, status or society • Doing away with rote learning • Development of human values • Learning life skills and artistic hobbies • Embracing healthy living through consumption of right food and regular yoga which usually form a part of the curriculum

Harnessing natural resources
Drying slices of mangoes, limes, chilli or potato strips, besides the laundry, of course, on rooftops and backyards, is a common sight in India. Natural resources have always been an integral part of the source of energy for Indian households and it's time we reverted to them.

By the power of the sun
Given that India is a tropical country rich in sunlight, solar energy offers the most practical solution to overcoming growing energy demand. Solar power has enormous potential to meet rural electricity needs, and critical agricultural, educational and industrial needs. Whether used for powering a pocket calculator, a satellite, or home-solar electricity, also known as photovoltaic, it is the future of our energy needs.

In remote areas where utility lines are not available, solar energy can produce home electricity without the cost of extending power lines, and with no monthly power bill. The benefit one receives from that energy depends on careful selection of lights and appliances that use about one-fourth as much power, and on individual conservation habits.

In addition, India is perhaps the only country in the world with an independent ministry for renewable energy, known as the Ministry of New and Renewable Energy, perhaps a reflection of our inherent faith in the power of natural resources!

By the power of water
Water, again, is one of the potential sources of energy that nature has made available to us. Harnessing this tremendous source through simple traditional methods like rainwater harvesting for household as well as agricultural use, can put an end to the water crisis that forms a tangible threat to the population. Though rainwater harvesting has been in practice from time immemorial in the form of kunds in the Thar desert, kul and bamboo irrigation methods and temple tanks, the importance of it had diminished considerably. However, traditional rainwater harvesting is still prevalent in rural areas, in surface storage bodies like lakes, ponds, and irrigation tanks.
The advantages of rainwater harvesting are plenty:

• Helps you cut down on your water bills (especially in cities where people have to buy water)
• Reduces demand on the municipal water supply
• Makes efficient use of a valuable resource
• Reduces the possibilities of the occurrence of natural calamities such as floods
• Reduces soil erosion
• Prevents the contamination of ground water

By the power of wind
Creating sustainable energy through wind power is not new to civilisations of India and China and existing windmills are proof enough that wind power is not a new technology. Some advantages of this energy are as follows:

• It is inexhaustible, renewable and free
• It is pollution free, being one of the rare ways to generate electricity that does not give out greenhouse gases or destroy the environment
• It is also a low-cost way to provide electricity and could soon be the cheapest way to generate electricity

Traditional healing techniques
The Indian continent has always been known for its alternative and complementary healing practices and techniques that use medicinal plants and herbs, spices, energy (prana), mantras, yoga, meditation, and vaastu. The world is once again getting re-acquainted with these healing methods that provide not just a healthy body but also a positive frame of mind and emotional well-being. Ayurveda, the ancient Indian practice of healing with natural herbs and plants, is once again emerging as the preferred mode of treatment.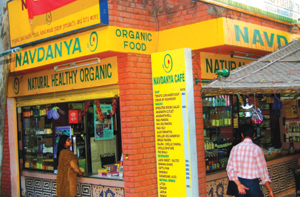 A return to organic Dr Meetu Gulati, the owner of Dhanwantri Ayurveda Care Clinic, an ayurvedic therapy centre in Noida, explains why traditional ayurvedic treatments have always worked, and why they should be revived for maximum health benefits to all. She says, "According to ancient Indian philosophy, the universe is composed of panchabhuta. Even the body and food is derived from this. Prithvi (earth), jal (water), agni (fire), vayu (air), and akash (ether) are the five elements, the panchabhuta. These elements are kept in a certain balance in the universe and the body. Ayurveda treats the root cause of diseases and not just the symptoms, caused by an imbalance of these elements. Medicinal herbs and plants used in ayurvedic treatment are also composed of these five elements and hence, perfectly suited to the body, causing no harmful side effects, unlike chemicals."

The increasing awareness and resurgence of such traditional methods of healing, therefore, bodes well for the human race in the future.

The great Indian family
At the core of all our traditional ways and beliefs lies the individual with the right human values having its strong foundation in the Indian family system. However, modernisation has driven a wedge even in Indian joint families, with more and more nuclear families on the rise. A return to closer family ties similar to the traditional joint families can result in providing the youth of today with values like sharing, a sense of security and comfort, and a sense of belonging, considerably reducing emotional problems in their adulthood.

Says Rahul Biswas, twenty-something, who lives in a joint family, "At times I find the lack of personal space within my own house to be cumbersome, what with my parents, my brother and me sharing space with uncles and aunts and cousins. However, each time I see our family multiplying every little joy by sharing it with each other, or when I see my aunt lovingly cook our meals as my mother has just returned home after a surgery, I silently count my blessings for being a part of the great Indian joint family."

Indian values, deep-rooted in its joint family structure, that teaches tolerance, love and sharing can well be the mantra that can diminish some of the hatred that we see around us. The world is shedding its old skin and the prevailing destruction that we see around us is proof of that. However, as old paves way for the new, there are certain traditional ways of yore that still work to our advantage. So let us revive and rejuvenate these age-old cultures, traditions and way of life and welcome back the golden age with open arms!

We welcome your comments and suggestions on this article. Mail us at editor@lifepositive.net

MEMBER AREA