Holistic Living - Do nothing to be happy
by Nayantara Harshvardhan
Siddhi Samadhi Yoga is a practice wherein the normal discriminatory function of the intellect ceases. The result is a profound reduction in mental activity as the author finds out
Download PDF Format
The Buddha once said, "The greatest gift is to give people enlightenment, and to share it."

Rarely does one get the opportunity to chart out a path of change consciously. Such an opportunity came my way when, a few months ago, I joined the Siddha Samadhi Yoga (SSY) programme, a one-week course aimed at teaching you the joy of living.

Goaded by my mother (who did the course in 2005), I reluctantly hobbled over to the SSY centre situated in Bandra. After an agonising emotional experience in the previous year, I had told myself I had moved on. Deep inside, I knew that I was still deeply pained. And I wanted to heal.

On entering the class, I was intrigued to see a variegated mix of nervous faces – housewives, corporate professionals, students, and doctors, from all ages and demographic backgrounds. Our guide, Sumita, introduced the course by asking us rudimentary questions. "What do we derive from food but which decreases over the day?" The answer was simple: Energy. Almost all of us start off our day with great gusto, aiming to accomplish an extensive list of tasks. But with time, our resources slowly deplete till all one can think of is crashing into bed for a good night's sleep.

Somewhere, this statement struck a chord with many of us, as we slowly began nodding to each of her questions. After filling out a simple form and minimal fees, we would start our class the next day. The same time next evening, we were greeted by a speaker in a serene white kurta. Sanjay Thakkar, a chartered accountant, who renounced worldly pursuits in order to initiate others into the spiritual path, is a permanent practitioner and SSY teacher. His straight posture and composed demeanour was impressive. He spoke to us gently, before asking, "When were you really happy?" Several answers came forth: "When I first went abroad", "When my daughter was born". His next question was, "When will you be happy?" Once again, answers were varied. Some wanted to be promoted, and some wanted a more amiable mother-in-law. "But why can't you be happy now?" asked Sanjay with a light-hearted smile. The class fell silent.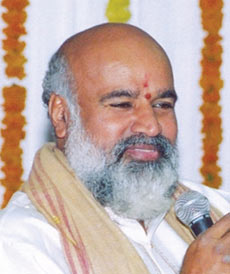 RISHI PRABHAKAR
This former aeronautical engineer turned modern
rishi offers the world a spiritual technnologyThe classes went on for a week, divided into part lecture and part breathing exercises called pranayamas. The pranayamas are yogic breathing exercises which help you energise parts of your body. The whole set took not more than 45 minutes, and change in the before and after energy levels was palpable. We were committed to a code of conduct. For example, the consumption of raw foods throughout the day. That also meant doubling one's intake of water as raw foods generate tremendous heat in the body. The use of alcohol and nicotine were strictly prohibited as were reading newspapers and watching television, unless you were in a profession that made doing this mandatory. To break out of a certain comfort zone requires determination and will, even if it is a simple agreement to curtail some of the privileges that we take for granted in our freewheeling lifestyle. I decided to stick to my commitment, as it was a test for me.

This former aeronautical engineer turned modern rishi offers the world a spiritual technnologyInitially, it was extremely tough, with the body trying to adjust to a completely new diet. Your mind tells you that you are going through a rough, but nevertheless, fruitful exercise that will benefit you. Each participant was presented with a list of recipes ranging from salads, soups and juices with a variety of vegetables. With herbal concoctions replacing tea and coffee, we were introduced to the strong medicinal properties of ginger, lemon grass and herbs. We were taught that ancient yogic wisdom defines health as 'swasthya', literally translating into well-being. The well-being is on five planes and not just on one plane, which is the physical plane, whose condition we are normally able to measure in the lab. Most of us are not aware that a person has five levels of body or five sheaths of body. In yogic terms it is called as 'panchakosha'. The cleansing of all the five sheaths of body is called as 'panchakosha shuddhi'. This means being healthy at all levels. Even if you are physically fit, but feeling angry and jealous, you cannot be said to be well.

The five bodies are :

• Annamaya kosha (the physical)
• Pranamaya kosha (the life force)
• Manomaya kosha (the mind)
• Vignanamaya kosha (the intellect)
• Anandamaya kosha (the being or ego)

To cleanse these five bodies is a simple procedure that is explained in the lectures. Every day we were given various assignments delving into our ideal world, happiness and certain concepts, which required an individual opinion and evaluation in the context of our own lives. The sessions became more interesting day by day, each one being interactive, with games and question-and-answer rounds. Interaction with other participants gave me insights into their personalities and thoughts. In fact, it is recommended to enter this course on your own.

The weekend included more than six hours of class, comprising of deep meditation, pranayamas, childhood games, and even dancing. I truly felt that this was an energising break from all the mundane routines that one usually followed and it was heartwarming to see individuals of all ages smiling and laughing. We also had a 67 year-old Parsi grandmother who truly believed in living in the moment, as this was the 'beginning' for her, and a 20 year-old mentally disabled child whose spontaneity was truly touching. We were also taught deep meditation with certain chanting and images depending on our medical history and requirements. The meditation gave me the sensation of purity, tranquillity and I felt my body floating into nothingness. For the first time, I was experiencing bliss.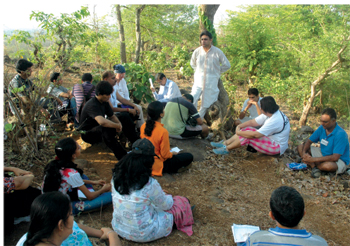 An SSY programmme in the ashramThe next week, we had a three-day trip to an ashram in Dehri, a village around two hours away from Mumbai. The amenities in the ashram are simple and as three days pass in these simple conditions in utter silence, one realises that this is more than adequate. Freeing oneself of the need to produce results and from attending to thoughts is the practice of silence or 'samadhi'. We ate, drank, conducted activities and meditated in total silence. Many activities that SSY have prepared will stun you in terms of your own capabilities and endurance. I truly felt cleansed and found its effects long-lasting even in the chaotic city.

The SSY programme does not pressurise you to change. It is a chance that one receives to relive life with real gusto. There are no fees for the course, except a meagre fee for food and transportation for the three-day trip. Also, since dinner is provided for your entire batch every night, you will be asked to bring certain fruits and vegetables on day one. Those who may not have time to purchase the requirements can just reimburse the volunteers with a certain amount, and come to the session hassle-free. You are free to join, irrespective of whatever illnesses you have and most exercises are safe, even for pregnant women. The teachers will automatically caution you if a certain practice can result in complications.

Started in 1982, this non-profit organisation aims to spread its beacon of knowledge. Anais Nin once said that the possession of knowledge does not kill the sense of wonder and mystery. There is always more mystery. There are eleven centres in Mumbai, and 300 centres in the country. There are separate courses for infants as well. Today, they have around 2000 volunteers all over India, all spreading the message. Guruji Rishikar Prabhakar, the founder, currently resides at the Maralwadi Ashram in Bengaluru, and frequently meets the tutors to continue this legacy of wisdom.

For myself, I have noticed a drastic reduction of negative thoughts and unhappiness. I now tend to think 10 times before judging someone or a situation, while also embracing the power of the moment and not questioning the possibilities that could happen. It is a privilege to open yourself to a life that is free and wholesome.

Carl Jung rightly proclaimed that your vision will become clear only when you look into your heart. Who looks outside, dreams. Who looks inside, awakens.

For more information: www.rsvk.org or
call Sumita on 9820317484
Contact: nayantara.harshvardhan@gmail.com



We welcome your comments and suggestions on this article. Mail us editor@lifepositve.net
Reader's Comments
Subject:
Do nothing to be happy
- 16 June 2009
hi.... I have read this article more than 20 times ,but i really feel if we don,t do anything we are full of tensions & horror. The Lemonade Diet is often used synonymously with The Master Cleanse, but I break it out to describe to portion of The Master Cleanse when you consume the nutrients
More...
by:
ritesh