Holistic Living - Home Is Where The Work Is
by Purnima Coontoor
A perfect work-life balance will be one of the characteristics of the new world. A practitioner shows the way

Download PDF Format
So, where are you working these days?" is a common question friends ask me in a sceptical tone if they have not seen me in a while, as I am infamous for changing jobs frequently. One of them jokingly says that Dashavataras were enough for the Lord himself, but not for me! So when I have been able to consistently say, "I am working from home these days," for the past year, I am gratified! And surprised that others are not as enthusiastic about it as I am. Their reactions vary from "Oh! Don't you miss going to office?", "Don't you miss meeting people?", "Don't you get bored sitting at home?" and the best one yet – "Don't you miss dressing up?"

Friends, I want to tell them, yes I do miss going to office. Who would want to miss the everyday tension of waking up early enough to make breakfast, pack three lunch boxes, clean the kitchen, check the bathrooms for geyser switches and gas stove and dashing off into the big bad traffic on my two/four wheeler, battling unruly Bangalore commuters, exhaust fumes, traffic jams and the vagaries of the weather, and yet get marked 'late' by the receptionist manning the attendance register?

I do so miss fretting about the maid who had not arrived before I left, and about the gas cylinder being delivered while I am out. I miss reminding my aged mom to take her pills and watch out for the postman/courier boy/laundry-man/the grocery delivery boy and other assorted people who seem to ring our doorbell incessantly through the day (giving her a fit). I miss not fretting about my son's college being let off for the day and him wanting to hang around with friends instead of coming home and relaxing or studying for that round-the-corner exam.

Oh, how I miss saying 'no' to a wedding invite because all my CLs are exhausted, grovelling before my boss for a week off for our annual family holiday, and appearing red-eyed at a staff meeting because I haven't yet completely recovered from flu! I miss spending on dresses/sarees/accessories too, and the anguish of deciding what to wear to work the next day, laying it out and ironing it the previous night even if it is the last thing I do before going to bed, come what may. I miss gossiping with colleagues and being dragged into petty office politics, and playing the game of one-up-manship.

What I miss most is the Monday blues – I do not have them anymore, you see!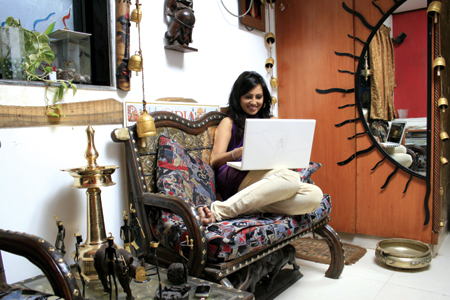 My life has become simpler after I quit going out to work Seriously, my life has become simpler after I quit going out to work. As a freelance writer and editor, my only tools are my laptop and 24/7 Internet connectivity. Though I have a standard place to sit and work, I move around my 'office' to any place I fancy. At the dining table, if something is cooking in the kitchen, sometimes in front of the TV, if something interesting is on, and sometimes on my bed if a deadline has to be met. The only stress I have encountered so far is when my Internet connection breaks down – I then need to go out and download the day's work and mail it back again by the end of the day. Frankly, I enjoy these outings, as I rarely need to go out and actually look forward to leaving home for a while! I catch a small nap in the afternoons after lunch (without feeling guilty), and am happy to have a homemade evening snack waiting for my family when they return. My mom is glad I am around, and is much more relaxed as she need not bother about the nitty-gritty of running the household. My son is glad I am around, as he can drop in at home for lunch/tea with friends in tow at any odd time. My husband (a businessman) is glad I am around, as he can offload some of his banking work to me. My mom-in-law is glad I am around, as she doesn't have to make excuses for my non-appearance at assorted family functions all the time. I am glad I am around to finally find time for that yoga class, the meditation workshop, and the bhajan sessions at the neighbourhood temple. All of us are glad I am around, so that we can just drop everything and drive away on extended weekend holidays, without fretting about leave applications.

As the McDonald's ad says, 'I'm lovin' it'. The excitement is replaced by a sense of calm, time has slowed down, life has been cut down to the bare essentials. If one is looking for a work-life balance, working from home is the best option yet. Try it.

Purnima Coontoor is a Mass Communications professional from Bangalore, freelancing as a writer, editor, translator and teacher, an Osho admirer and lover of life!

Contact : purnima.contoor@gmail.com
We welcome your comments and suggestions on this article. Mail us at editor@lifepositive.net