Holistic Living - Living on love and fresh air
by Chitra Jha
For Jasmuheen, the popular phrase is a literal truth. She has been living on prana for the past 16 years and has a vibrant glowing presence to show for it. An interview with this amazing personage

Download PDF Format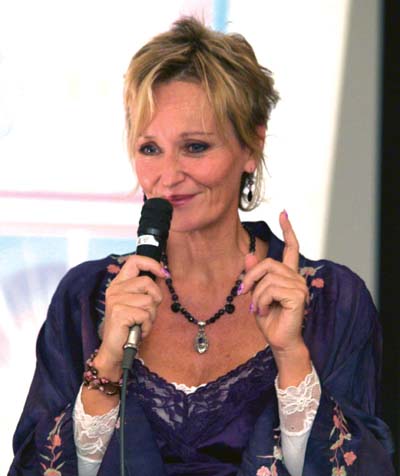 Prana is the essence of our divine nature When I first met Jasmuheen, a spiritual teacher from Australia, at a spiritual conference in Bangalore, I was quite taken by her beautiful glowing personality. She radiated love and beauty through her warm smile. She carries her various titles lightly – she is the president of the Global Congress of Spiritual Scientists, founder of the Self-Empowerment Academy, Cosmic Internet Academy, and the Embassy of Peace. She specialises in inter-dimensional field science, and is a leading researcher on pranic nourishment.

Later, I came to know that she has been living on 'love and fresh air'(prana) for the past 16 years. Naturally, I needed to know more…

Excerpts from an email interview with Jasmuheen.

You have been living on prana for the past 16 years. Tell us some more about this journey.

Prana is the essence of our divine nature. It is also known as chi, ki, divine love current or nutritional cosmic particles. Choosing this way of nourishing my body cells has been a fascinating journey on many levels; from dealing with the scepticism of western people, to also trying to understand and learn more about the science behind it. Over the years I have discovered the gifts of The Prana Program by living it all experientially, thus proving to myself beyond a doubt of its infinite possibilities. I have been a bridge between the eastern understanding and my own experience of prana. I enjoy the benefits and freedom that this choice of nourishment offers.

What exactly is The Prana Program? How can we access prana in order to live on it?

The Prana Program is about accessing a limitless, free, internal stream of energy that can take away all personal and global hungers on physical, emotional, mental and spiritual levels, so that we may know permanent peace within us and in our world. How much of this pranic energy we choose to access, determines what freedoms we have as individuals. It is pure and perfect. As we meditate upon it, it transforms us into that which it is.

We take this energy in through our atoms – which science says are doors to inner universes. This happens via a process of magnetic attraction via the universal law of resonance. We all attract this prana to us whether we are conscious of it or not. We couldn't have been alive without it. But when we live a conscious spiritual lifestyle it allows us to attract a stronger pranic flow.

What are the prerequisites for being able to live on prana alone?

We can alter our personal frequency via our day-to-day lifestyle. At the Embassy of Peace we recommend an eight-point lifestyle programme to bring us into health and happiness on all levels. This Luscious Lifestyles Program (LLP), also lets us access a stronger stream of pranic nourishment. Most importantly it stimulates the expression of our Divine nature. The eight points that we recommend are:

• Meditation: Meditate for at least 20 minutes in the morning and 20 minutes in the evening, with the use of a mantra.

• Prayer: Praying means establishing an intelligent communion with the UFI. (United Field of Intelligence) that responds to the thought and feeling patterns of all life forms. Prayer, ideally, is conversational, as if you were speaking to your best friend, your divine essence.

• Mind mastery and conscious programming: This means using the mind as our servant rather than being the servant of our mind. It also means letting go of all limited and negative thinking, and understanding the power of mind in reality creation.

• A vegetarian diet: Begin to lighten up your diet. Eat smaller amounts and less often and refine it until you are a vegetarian, then a vegan, a fruitarian and eventually choosing to live only on prana. You may eat 'food' only now and then and that too just for the pure pleasure of it. There won't be any 'need' to eat.

• Exercise: Treat your body as a temple that houses your enlightened being, and ascended nature. Find a combination of exercises that allow you to create a stro ng and fit physical system.

• Service: Do something beneficial for someone every day, without any thought of reward. Daily selfless service keeps us tuned to the kindness and compassion aspect of the field of pure love.

• Time in silence with nature: A silent communion with nature allows us to not only absorb more Earth prana, but also become more conscious of our planet in a positive way. It feeds our soul, and makes us appreciate the beauty of creation and be more environmentally aware. Silence is an incredible teacher. When we are still and fully present in each moment, the more subtle energy realms can be revealed to us.

• The use of devotional or sacred music: Two of the most beautiful frequencies that we can be fed, are compassion and devotion. A well-tuned, pure heart centre attracts powerful inter-dimensional support. All the indigenous people use chanting and mantras, or sing devotional songs which align our emotional body to the field of pure love/prana.

The combination of living these eight points brings grace, synchronicity and magic to our lives. It also gives us more time each day, as we begin to need less sleep because we function better on all levels. If you follow this programme each day for 21 days in a row, then on the 22nd day you would have formed a new empowering habit.

This lifestyle activates four-fifths of our brain which we normally don't use and which houses our higher mind and higher nature consciousness. This is the lifestyle that I and many others use to access the divine nutrition channel. This choice of alternative nourishment saves us money, gives us more time and has substantial long-term benefits for our global economy and environment. The sincere practice of this lifestyle moves us into a state of such satisfaction that we become free from all desires.

How many people do you think will be able to rise to the spiritual level of doing without food?

Anyone who wishes to live entirely on prana can do it. But one has to be prepared to adopt the eight-point lifestyle and attitudes that we recommend. You can move into this at your own pace, in your own time, if it calls you.

What have been the effects of living on prana on your physiology and other aspects of your being?

I have more time than most people since I do not need as much sleep. I am also not involved in shopping for food or food preparation process. Since my body doesn't have to be involved in digestive processes, it can use its energy differently; so I have a lot of creative energy as well. All my work whether it is art, writing, speaking at events and now, more recently, music flows from this creative energy.

Is it your intention that The Prana Program replaces normal food supplies in all countries?

In the short term definitely not. However, increasing the pranic flow, and adding the mindset that prana can provide an additional level of nourishment, can be very beneficial to all. For example, I know of many people who for years have lived healthily without taking vitamin supplements and whose calorie intake has averaged less than 300 calories per day – myself included.

How can The Prana Program be used as an alternative source of nourishment in underdeveloped Third World countries? How do you propose to teach this programme in such countries? By the use of simple meditation tools, breath techniques and visualisation procedures, we can instruct people how to nourish themselves from within and decrease their dependence on external food. This will increase their self-reliance and provide them with greater independence from the world's food resources. It will allow them to be nourished not just physically but also emotionally, mentally and spiritually.

How would you describe prana to a largely uneducated population?

Everyone has certain beliefs so we need to find their terms to describe prana. We usually describe prana as a nourishing aspect of the God force. For most people it is not difficult to understand that there is a force of energy which pervades all of us. This energy loves us and we can feel this love when we meditate upon it. This God force guides us via our intuition.

Once all this is accepted, then the idea that this invisible force can also manufacture and deliver into our cells all the nutrition we need to be healthy and self-regenerate, is not that difficult. Then we share the idea that this force can nourish us, regardless of how much or how little we physically eat. With sound holistic education regarding the mind/body connection, we teach how to increase the flow of cosmic particles to our systems in a way that can feed us on all levels.

How can we live on prana when the air around us is so polluted?

I live 50 per cent of my time in polluted cities, and it has no effect on my being nourished by prana. The states of expanded awareness and consciousness, are unaffected by pollution except for mental pollution.

You are an advocate of co-creating permanent peace on Planet Earth. How do you plan to achieve that?

Via good educational programmes that aid in the elimination of ignorance, which breeds fear and chaos. Also by being the best example of a divine being that I can be. The greatest gift we have is the force of divine grace which flows to support anyone whose life is committed to the service of enhancing human evolution in a way that benefits all.

You have two retreats coming up in India in 2010. What do you feel about India and Indians?

Having been an Indian in another time line, for me India is home on many levels.

India is a land that prompts reflections and introspections for us all. Like others, I have learnt that many things that we seek, when found, do not fulfil the human heart in the way that we hope. Fame, fortune, a love affair – none of these can provide the type of nourishment that brings the real 'Aha' moments where all of our hungers disappear. And yet freedom from the quest for these things can only come when we have attained them and fully explored and revelled in them. And all of this India demonstrates to the watcher, for India holds so many stories just by the sheer number of her people. Officially 1.2 billion people, unofficially maybe 20 per cent more, each one existing in the truth or illusion of their own creation, just as we all do in the world.

What message would you like to give to our readers?

It is the same message that we share with everyone and that is to be the divine beings that you are. When we know – via meditation and experience – who we really are at the deepest, purest levels of our being, then we can all thrive in the most supportive way, living in harmony on our planet. It is an agenda that many now dream of.


Reader's Comments
Subject:
love and fresh air
- 2 August 2012
nice to read it. very inspiring. will definately practice from right now all the the principles. thanks
by:
bharati hegde
Chitra Jha replies: -20 September 2012
All the best Bharati and thank you..:)
Subject:
living on love and fresh air
- 26 May 2012
its great and unbelivable. may the world avail the opportunity to grow spiritually.
by:
jeyachandran
Chitra Jha replies: -26 May 2012
and so be it!!! Thank you.....