Holistic Living - Sadhana In Samsara
by Purnima Coontoor
In the time of kaliyuga, when the need of the hour is to spiritualise society, the role of the householder seeker is a crucial one. juggling career, family, multiple relationships and traffic jams, the householder must bloom like the proverbial lotus in the muck of everyday life
Download PDF Format
Householder sages
a glimpse of grihasta rishis – past and present Our land has been blessed with any number of spiritual personalities who have been householders as well. In fact, sages who have been written about in
More >>
---
Confessions of a reluctant Grihastashramite
Recently, I met a guru who took one look at my face and told me, "You are a sanyasin, a rishi. You will never marry." I knew it. I knew it. And here I am stuck with a home and a job and even a
More >>
---
It is said that when Buddha visited his family after enlightenment, his wife Yashodhara had just one question for him – was it necessary for him to have abandoned his wife, infant child and kingdom to achieve enlightenment? Buddha said no, he could have easily achieved it even being in the world, but he did not know it then!

Householders can take heart – they need not leave their homes and vocations to seek the Divine in the Himalayas or elsewhere. For those who use their 'householdership' as an excuse to have no time for spiritual pursuits, it is a reminder that they should make use of this golden opportunity to evolve into better human beings. Sanatana Dharma, in fact, has given grihastashrama equal status in the journey of an individual's life, the others being brahmacharya, vanaprasta and sanyasa. Each stage of life, according to its tenets, is to be lived to the fullest, and specifically used for establishing a relationship with our higher selves/inner selves/God.

• Brahmacharya is the formative learning stage, starting from the age of four, when one starts building a relationship with one's inner self with the guidance of guru and parents. Literally meaning 'circumambulating the Brahman', the foundation for spirituality, of cultivating the extremely important faculty of looking at every being as divine, is established here by teaching young ones to consider parents, guru and guests as divine (matru devo bhava…)

• Grihastashrama is the stage where couples seek the divine through the senses, and perpetuate the pursuit of the same through their progeny.

• In the next stage, vanaprasta, individuals are expected to withdraw gradually from worldly transactional activities, while still being householders.

• All these stages are to culminate in sanyasa, a natural state of detachment and disassociation which comes as an outcome of a life well lived. In Kaliyuga, sanyasa can only be mental detachment (and environmentalists might well ask where are the forests to retire to, anyway?).



SHRI NIMISHANANDA
A woman is more spiritual because she
carries the womb with herThe whole point is, the purpose of life itself is to establish contact with our Higher Selves, and having a lesser goal is like insulting our very soul. Seen in this light, every situation that we encounter in our life's journey should be converted into a learning experience – what is required is an awareness, willingness and commitment to do so. Unfortunately, not many know, or live by the lofty tenets of Sanatana Dharma. We therefore blunder through life and relationships by our own dharma of trial and error, hits and misses, and sometimes manage to touch base with our spirituality by sheer default. What else can be better than being a wife, mother, father, or son to experience life in all its myriad moods and forms, and emerging through the trials-by-fire as better human beings?

Motherhood, in fact, tops the list for generating emotions close to spirituality in the maternal breast. It is not for nothing that a mother's love is said to be the most selfless – I have yet to come across a mother who will not gladly take on her child's pain if she could. Says Adi Shankaracharya: Kuputro jaayeta kvachidapi kumaataa na bhavati (Bad sons may be born, but there can never be a bad mother). In our land, which celebrates motherhood like no other, the primordial force, which created the universe, is depicted as the divine mother Adi Parashakti, and to worship God as Mother comes easily and naturally to Indians.'Yaa devi sarvabhuteshu matrurupena samsthitaa namastasyai-namastasyai-namastasyai namonamaha'

'Salutations to Thee, O Devi, who is present in every being as mother! Salutations, salutations, salutations to Thee!'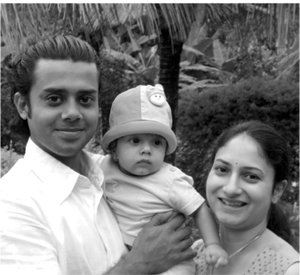 Swathi wih her husband and babySwathi is a young mother whose life spun 180 degrees after her baby was born. Footloose and fancy free before that, Swathi recalls times when weekends were spent watching movies, eating out, and travelling with husband Sandeep and family. While all that is history now, the one thing she misses most is sleep – with her baby showing scant respect for fixed sleeping hours, the young mother is often bleary-eyed and tired during daytime. However, ask her if she yearns for those days again, and she says never! "Now I know why motherhood is so glorified, because it is!" she declares, as she looks fondly at her child. "No sacrifice is too much. I never thought I could care so much for another being, but see how naturally it comes to me! I feel blessed," says Swathi. The other day, the couple was playing with their child at the stationary horse, and looked blissful! When I enquired if they were free for a movie that weekend, "not for the next three years," they chorused happily, "Now our lives will revolve round him, and when he starts school, around his holidays." Qualities like patience, tolerance, responsibility and selflessness have ceased to become mere words with parenthood for this young couple.

A woman, says Bangalore-based guru Shri Nimishananda, has a propensity towards being more spiritual as she carries the womb within her, a microcosm of the cosmic womb – the universe, which holds all of creation. As a daughter, wife, colleague, boss, friend, her maternal instincts are always ready to surface at the slightest chance, irrespective of whether she has given birth. Men with more of yin in them also display the trait. Thus, we are all spiritual by default, but cultivate other qualities due to societal pressures and individual inclinations.

If playing mother comes easily to women, men tend to remain boys until they become fathers. "After my children were born, I have become extremely conscious of what I say and do, because I want to inculcate the right values in them," says Raman, an HR professional from Bangalore. His wife Alka says she cannot recognise the man she married after her children were born. Undisciplined and wayward, Raman, by his own admission, had no clue what life and responsibility was all about. He hung around with friends all the time and had no inkling of what his parents would go through when he disappeared for days on end without informing them. Now he has become a sensitive and caring individual who always puts his family's interests before his own. Raman's father, at the thread ceremony of his grandson recently, marvelled at the change in him. "Is it really my son out there?" he exclaimed, "look at him, taking so much interest in tradition and carrying out his duties diligently as a father. All thanks to my daughter-in-law, she has done what we couldn't do as parents!" he said with obvious gratitude.

Parenting also affords a great learning experience. "I used to be very liberal with use of swear words before, but now I have become conscious of my speech. My 10-year-old son, in fact, pulls me up if I do slip into it sometimes," says Raman. Awareness is an essential ingredient towards becoming more spiritual, and children teach us how. Children also teach us to be in the present moment, give us back our innocence a bit, and help us marvel once again at the colours of a rainbow and the fine grains of sand. "Become more and more innocent, less knowledgeable and more childlike. Take life as fun, because that's precisely what it is," says Osho, and what better way to revisit the joys of our own childhood than through our children? The noblest instincts in an individual come to the fore when one is around them, and those feelings should be recognised as the true, uncorrupted nature of a human being.

It is said that a woman expects her man to change after marriage, and the man does not want his woman to! Couples who transcend this conflict are the ones who mutually benefit from this relationship – arguably the most difficult one to manage. Sharing one's body, mind and space with another by itself requires a paradigm shift in attitude, just like spirituality does. Bharathi and Prem Nirmal, a couple who run the Shiva Vyapti Trust, Mumbai, dedicated to spreading rishi culture, say that being a grihasta is the fastest way to transcend desires, grow in all dimensions and move towards a fulfilling life. They recalled that they were so different in terms of culture and upbringing and had such diverse ideas that an astrologer had once predicted that either one of them or Prem's mother would commit suicide. However, they were united in their commitment to use situations as an instrument of growth and they weathered the challenge. Says Bharathi, "We ran our electronics factory successfully for 22 years, completed all family responsibilities, looked after a nice daughter, who is equally independent, very talented and responsible. Simultaneously, we started a meditation centre 12 years back and today we are completely out from business, happily fullfilled and free of compulsive family duties. We are dedicated fully to spiritual activities and feel completely satisfied about everything that life has to offer!"

While 90 per cent of young parents enjoy parenthood, dealing with other relationships within the circle can be traumatic or spiritual, depending on how you look at it! My mind goes back to a Hindi film called Kal Aaj Aur Kal, which featured Prithviraj Kapoor, Raj Kapoor and Randhir Kapoor. The film highlighted the dilemma generated by the gap between the three generations of grandfather, father and son. The man in the middle is most traumatised, caught as he is between the ego clashes between his father and his son. With patience, understanding and perseverance, he manages to bring them all together and foster a feeling of oneness and belonging. But most importantly, the father could do it because he was able to subdue his own ego, put his own needs on the back burner, and look at the entire situation with dispassion and detachment. Spirituality!

Joint families afford this opportunity for evolution like no other. When daughters become daughters-in-law and wives, they have no choice but to muster their nobler sentiments in order to deal with a new set-up and family. Just a generation ago, elder brothers were required to shoulder the responsibility of the family, get their sisters married and often steamroll their wives' desires and expectations in the process. Compromise is the name of the game, surrender being the best option. While 'what cannot be cured must be endured' works, 'what cannot be cured must be enjoyed' works much better, as I discovered myself! Being a single child, marrying into a family of eight siblings and what seemed like a million cousins, nephews, nieces, uncles and aunts seemed like the perfect recipe for mental breakdown. It took me five years to get all their names right, and to get used to the constant flow of visitors (and cash, from what I felt was 'our' pockets). I was thrown into a different world altogether, and I confess I resented the change in lifestyle and values that the new family demanded of me in the beginning. I was often aghast to see 'my' towel being liberally used by a distant uncle, or a sister-in-law rummaging 'my' wardrobe for 'my' red dupatta without so much as a by-your-leave. I was furious when my husband regularly left his purse on the living room TV, and stunned to see others doing the same. I have gradually come to understand the meaning of sharing and caring, experiencing and extending warmth beyond husband and children. In times of celebration, I am glad to laugh and enjoy with all of them; in times of crisis, I am grateful for the helping hands that stretch spontaneously to offer time, money, resources and emotional support. Glad too, that my child had the benefit of growing up with a large extended family, happy with the knowledge that he will continue to operate on a higher plane by default. Again, as Osho puts it, "Love cannot exist as a monologue; it is a dialogue, a very harmonious dialogue," and no one ever evolved by isolating himself from family or society.

I have often wondered at (and sometimes envied) people who are single by choice, erroneously believing that they had a greater chance of experiencing peace and happiness. My young friend, Shubha Patwardhan, Research Associate at IIM-B, is 30 and single. She once amazed me with her insight on the same. "I have great respect for people who have and manage relationships," she said, "without relationships you have no reference point to help you judge your own attitudes and actions." How true. Socrates, it is said, had a most foul-mouthed wife, and yet the man never once resented her or reacted against it. In fact, every time he felt he was being pushed to the limit, he was grateful to her for the chance she afforded to examine his thoughts and emotions for any sign of negativity. He found none, which is why he is hailed as one of the great spiritual souls of all time.

This is not to glorify abusive relationships or expect people to continue in one even under extreme provocation. But while one is in it, it is best to look at it as a learning experience. The worst saas or bahu or saala is always a lesson in 'how not to be' when it is our turn. Not that walking away from a relationship will automatically lead us into a better one – no, not unless we have assimilated the learning from it. If individuals find themselves landing in the same kind of situation/job/relationship repeatedly, and maybe lifetime after lifetime, it is because they have not learnt and evolved. Each person and situation is put in our lives at precise moments because our Higher Self has called it forth for our evolution, evolution being the one and only agenda of life on earth.

"Whenever you are in conflict with someone, there is one factor that can make the difference between damaging your relationship and deepening it. That factor is attitude," said American philosopher and psychologist William James, and one cannot contest the truth in this statement. Running away is not the answer, dealing with it head on is. Converting it into a spiritual lesson, though, is the best option, as Akila Jaikumar discovered. For long, Akila had remained an 'unwilling, resentful, and unhappy' daughter-in-law for various reasons. She also worried and wanted people to approve of her at work and home. Akila suffered from migraine and arthritis. Once, she developed severe abdominal pain, which was attributed to a large fibroid, which needed to be operated immediately. The spiritually inclined Akila immediately consulted the book You Can Heal your Life by best-selling author Louise Hay. "Was it any surprise that for fibroids, the thought patterns that induced them were 'resentment nursed against a partner' and for arthritis in the ankle, it was 'criticism and resentment'?" asks Akila in wonderment. "It was a revealing moment– by my attitude and thoughts, I had created my own diseases," she says. Akila was able to let go of these debilitating feelings, and debilitating illnesses left her too.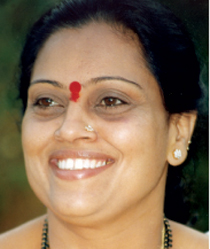 GURUMATHA AMMA
"Become free of desire and thus become fearless"Akila also learnt a valuable lesson when her domestic staff damaged an expensive and rare decorative artifact obtained from Nepal with great difficulty. "For days, I brooded about it, but over time I understood the simple truth that one has to let go of the attachments to material things, money, belongings and be happy. Today, I have suffered enormous losses in the economic meltdown, many times more than the earlier loss, but I am not worried. The loss has taught me to let go of attachments to material things."

Life thus provides innumerable opportunities to learn and grow, and intensify one's sadhana, reiterate Prem and Bharathi. "Does a noisy neighbourhood irritate you? Do you get angry if someone pushes you in the crowded train? " Becoming more observant of the mind in such situations is the beginning of the spiritual journey for you! is their compelling argument.

Ashok Gollerkeri, Senior Marine Radio Officer in Mumbai, sums up the whole issue of relationships beautifully. "Even in a relationship that is a bed of roses, life's circumstances, its twists and turns, the unique roles, strengths and weaknesses of individuals can create conflict or a divergence of paths and preferences. How these differences are transcended by the power of love, how one summons the courage to pick oneself up every time one falls, how one wipes away every tear and every bitter memory to hug and love again – this journey is the triumph of the spirit, the triumph of love, the triumph of truly intimate relationships. These can hurt deeply at times but through shared pain and pleasure, can expand one's ego boundaries, open one's perception to a different dimension of life, enriching one's life in a way reason would be unable to comprehend."

"In the ultimate analysis, it is you and only you," says Mumbai-based writer Rajendar Menen emphatically. "People come along in different garbs and teach you different lessons and then leave. Possibly, even from past lives. Then, after it all, finally, you go back to the dust and the eternity that gave birth to you. However, in this short journey, without a doubt, you are shaped by your relationships. That is the primary role of relationships." Amen to that.

Purnima Coontoor is a Mass Communications professional from Bangalore, freelancing as a writer, editor, translator and teacher, an Osho admirer and lover of life! Contact : purnima.contoor@gmail.com
We welcome your comments and suggestions on this article.
Mail us at editor@lifepositive.net