Inspirations - The Little Gardener
by Life Positive
At 11, Katie Stagliano has done more to serve the world than most of us do a whole lifetime.

This US-based 11-year-old grows and maintains six vegetable gardens that produce annually about 900 kgs of vegetables which she donates to soup kitchens that feed the needy. It all began when at eight years, Katie grew a cabbage that became a humongous 20 kgs. She donated it to a local soup kitchen where it helped feed 275 homeless people (when used along with ham and rice).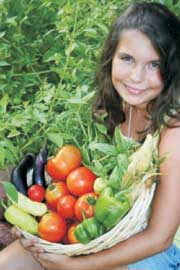 Thrilled to have been able to feed so many people, the compassionate tot started planting vegetable gardens under the name of Katie's Krops, a non-profit organisation. Her example has inspired her classmates, family members and other members of the community to chip in and help out.


Nonviolence is the greatest force at the disposal of
mankind. It is mightier than the mightiest weapon
of destruction devised by the ingenuity of man.
– Mahatma Gandhi
Since February of last year, master gardener Lisa Turocy has not only sat shoulder to shoulder with Katie planting and giving advice, she's transformed her entire front yard into a garden with 600 seedlings. "If I can help her change the world," says Turocy, "that's awesome."
Clearly, it does not take much to infuse caring and compassion into the world. Just one little girl with an extra-large heart should do it.