Laughing Buddha - Cosmic joke
by Harvinder Kaur
Providence surprises seekers, healers and channelers with a surefire prescription for enlightening mankind, says Harvinder Kaur

Download PDF Format
As the great timeless time approaches – 2012 December,
There are things we need to review and remember.

"The mass of humanity is at a great spiritual threshold,
This task cannot be left to the complacent and cold!

"Let us reinforce our great and sacred aim,
Our soul duty, above money, power and fame!"

The pious CEO of World Enlightenment Academy Limited
Benignly thundered, so his branch heads were benefitted.

The spiritual satellite crackled with theta waves,
Its impulses electrifying those in Himalayan caves.

After all, they had a Cosmic Deadline to meet,
They couldn't afford to drag their divine feet!

"The more people you can help to uplift and enlighten,

The more your soul will shine, your career brighten!

"My soul comrades of the world, awake and arise,
There's Nirvana to claim – with a cash prize!

"UNESCO (United Nations' Enlightened Spiritual Cosmic Order) has given
A huge fund for the committed and spiritually driven!

"Fighting dark forces is a daunting mission indeed
But a great company like ours must take the lead!

"This graph makes the human spiritual progress clear,
Just two thousand Buddhas in the last financial year!

"No, no, this lackadaisical approach will not do,
Why are more bulbs not lighting, give me a clue!"

His ears had reddened, his mouth dried,
He was so choked with sincerity, he almost cried.

"The arsenal has been readied and is waiting,
We have to urgently raise our spiritual TRP rating.

"Go and apply all the tricks of the spiritual trade,
But a new spiritual landmark, by us has to be made!

"No stone to be left unturned, no effort remain,
And after an untiring year, we shall convene again."

And so they left their divinised corporate hideouts
To comb the streets for charged spiritual clouts.


Coming soon...
The Laughing Buddha Book. Laugh your way to enlightenment. Book your copy now!
As a critical mass was to converge to the tipping point,
The Enlightenment Academy needed heroes to anoint!
The charged workers of the Academy churned the ether
To create a spiritually conducive climate and weather.
Desperate bids were made, the cosmic network tapped
Beings at all levels were summoned, the strategy mapped.
Mass consciousness was to be shaken, a chord had to strike,
the Devas chose Facebook, the Elementals Twitter and Skype
The Archangels woke one morning to discover the fuss,
They rubbed their eyes and bulldozed with Google Plus!
The Gaia protectors joined hands with the light-workers,
Aided by reiki, pranic, quantum, magnetic & theta healers
After a year of overt and covert spiritual metamorphosis,
The time came to take stock and for a collective synthesis
The CEO walked in the networked chamber with a box of tissues,
His tearful, swollen eyes warned that there were some issues!
"It is hard for me to say that we've collectively failed,
But if more Buddhas don't pop, we'll be cosmically jailed!"
A powerful wordless vibration passed through the invisible cables.
The world's spiritual workers crossed fingers under their tables.
"I know you have all tried hard, all methods and techniques used.
The kriyas, sutras, yogas, mantras, and the sacred rays fused.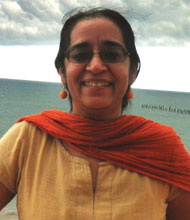 Harvinder is an educator with
a sense of humour! She has fun
working for innovative and holistic
education. Her poetry blog:
www.teapoetree.blogspot.com
"We have the collective knowledge of all enlightened ones,
Can't we plug man's mind to the light of a thousand suns?"
He yelled "Tell me someone what to do before time runs out!"
Suddenly, a voice thundered over a cosmic blackout!
By the deep rumble, they knew the Creator had leant His voice,
They must have gone really wrong, to leave Him no choice!
"I couldn't bear it and had to intervene in your assigned work,
After all the help, knowledge, and gurus, you're still a jerk!
"I will give the most treasured, powerful and effective way,
If you can do it non-stop, you'll be enlightened in a day."
Breath suspended, tears vaporised, eyes widened, jaws dropped,
Spines straightened, thoughts disappeared, all action stopped.
Enlightenment's sacred-secret code was finally to be cracked!
(No one bothered that the Academy CEO was to be sacked!)
"With lightning, the word will be etched in a single stroke."
And so it appeared – a single word that made everyone choke!
The smoke vanished, leaving the burning secret thereafter,
They couldn't believe it but yes, the secret was 'laughter'!
The entire complex spiritual machinery – both genuine and fake
Was abandoned, and everyone acknowledged their mistake.
The Divine Message was finally sent to all the earthly folks,
"If you wanna be enlightened, you've gotta tell jokes!"
See more articles on Laughing Buddha :
http://www.lifepositive.com/Articles/LaughingBuddha