Laughing Buddha - The quest for tooth
by Abhishek Thakore
Abhishek Thakore envisages what happens when the Laughing Buddha visits the dentist

Download PDF Format
Dear followers,

Though I constantly preach the path of effortless living, being a Laughing Buddha is not an easy job. Not at all.

For example, I work very hard at developing the concept of effortlessness. I work even harder to make it a part of my life. Hence effortlessness takes a lot of effort!

Similarly, I have to maintain my weight (who likes a slim laughing Buddha? My market research reveals that thin people who laugh loudly are viewed 83 per cent more suspiciously!)

But the biggest challenge has to do with my smile. For me, a smile is more important than any other piece of clothing I wear (well, almost any other). I have to stick this smile on my face constantly.
 
 
Coming soon...
The Laughing Buddha book. Laugh your way to enlightenment. Book your copy now!
 
 
Without it, I will have to drop Laughing from my name and become Buddha. This, while being extremely glamorous, is a copyright violation of The Man himself, which is best avoided.
So, because of my constant laughter and having my teeth exposed to public glare, I need to constantly make visits to the dentist.
My visit to the dentist represents the most err...
'spiritually interesting' time of my life. The distant second is when I was at Mt Koyama standing on one foot and trying not to sneeze after an ant wriggled into my nostril for 14 minutes straight.
Anyway, coming back to the point, the dentist experience involves complete surrender. The willingness with which you offer your mouth, inspite of knowing what is going to follow, represents the ultimate act of courage.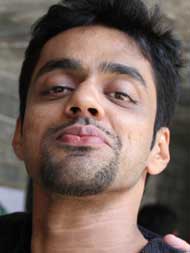 Abhishek runs a social enterprise,
The Blue Ribbon Movement, that
works on creating and nurturing
social leadership amongst youth.
Various cold, steely and pointed instruments probe inside just like wordly people do those on the path to truth. These instruments manage to intrude into the most tender and sensitive parts of your mouth. They occasionally may remind you of your spouse, in their sheer ability to get to exactly where it tickles or hurts the most.
Then there are root canals – they are representative of deeper issues and going deep within. Some attitudes and memories have to be dumped – much like tooth extraction.
It helps to think if it as your karmic cleansing – it is a great way to practice making peace with pain too; just as the dentist has made peace with giving you the pain. And then charging you for it.
Being at the dentist's is one rare case (Mr Eckhart Tolle, please listen) where not being in the present helps. All the while I was at the dentist, I kept looking for something else to think about. But my mind kept coming to the present! Till I immersed myself in a thought...of writing this article...And I started composing it in my head....
Laughing Buddha laughs because –
Not visiting the dentist is the best way to avoid short-term pain and invite long-term trouble! It can be a transformational, spiritual experience as well. I recommend that every seeker goes and get his/her teeth checked. Sponsored by my title sponsor, Soulgate Toothpaste.
See more articles on Laughing Buddha :
http://www.lifepositive.com/Articles/LaughingBuddha