Life - Being human
by Megha Bajaj
My father was okay, but some little girl's father would not return home that night. My husband was safe, but someone's husband wasn't. My mom was in the kitchen cooking food, but someone's mother wasn't, rues Megha Bajaj

Download PDF Format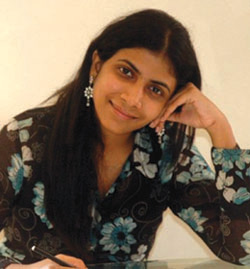 Megha is, above all, a seeker. These days she
is attempting to find herself in the role of a teacher
through the online writing course designed by her.
You can know more about her on
http://www.wonderofwords.org I was in Chennai for a business trip and was just returning to my hotel, humming to myself, when the message came, "Just found out about the blasts in Mumbai. Hope all of you are fine." Startled, I re-read the message. Blasts?

Just then, calls from family who stayed outside Mumbai started pouring in. Three bomb blasts in my city. Where? One was in an area five minutes away from Dad's office, another just a stone's throw from Arun, my husband's workplace. I quickly dialled Arun's number. It was unavailable. I tried Dad. Mom. Nidhi, my sister. No. I couldn't get through to any of them.

Fear gripped me. Suddenly, I felt far away from my loved ones… What if? My fingers tirelessly tried all the numbers. Finally, I got through Dad. He said Mom and Nidhi were at home. I asked Dad if he had been able to get through to Arun. Dad said no. Before Dad could finish speaking, I disconnected and kept trying Arun's phone.

Finally, I got through to Arun's phone. The phone rang once, twice, thrice. And it got disconnected. Strange images formed in my head. Pictures of death, bodies, blood, phone flung away. No, no, no. Arun had to be okay. Just then, my phone rang. It showed, "Arun calling." As I spoke to him, I laughed, I cried and I hugged him across all the miles.

When all the drama of the moment was over, I laid my head against the head rest and thanked God for making sure all my loved ones were safe. I began humming again, when suddenly I stopped. My father was okay, but some little girl's father would not return home that night. My husband was safe, but someone's husband wasn't. My mom was in the kitchen cooking food,
| | | |
| --- | --- | --- |
|   | |   |
| | I immediately began to pray for the safety of all the people of my city. In that moment nobody seemed 'distant', everybody seemed like a near and dear one. | |
|   | |   |
but someone's mother wasn't. I immediately closed my eyes and began to pray for the safety of all the people of my city. I prayed with such intensity that tears trickled down my eyes. In that moment nobody seemed 'distant', everybody seemed like a near and dear one. It was one of the most purifying moments of my life.
That night, I couldn't sleep. Somehow Gandhiji's favourite hymn kept playing in my head:
"
Vaishnawa jan to tene kahiye, je peed paraayee jane re…
"
(He alone is a true human being who knows and feels another's woes as his own…)
I realised that I couldn't change everything about the world, yet I could change something. I was so caught up with my life, my family, my
work
– I had forgotten what it felt like to feel someone else's pain. I had to begin somewhere – I had to do something, I had to go beyond I, me and mine. For an hour each day I would do something for someone not related to me in any way – for an hour I would drop all my titles and roles and just be, well, human. Perhaps go to an orphanage and hold a little one beside my heart? With this happy image in my head, I finally fell asleep.
See more articles on
Life
:
http://www.lifepositive.com/Articles/Life