Life - Teaching Trash
by Punya Srivastava
An enterprising duo from Auroville has devised a course on waste management for kids, says Punya Srivastava

Download PDF Format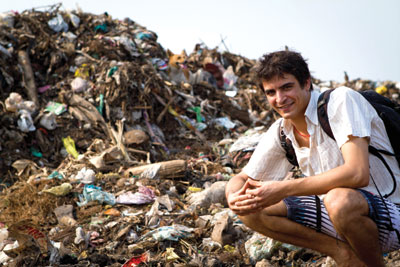 Ribhu Vohra: the guru of Garbology One of the looming issues of our present times, which threatens to engulf us, is the problem of plenty. Plenty of garbage. As the world continues its orgiastic spree of consumerism, a sobering side-effect is the pile-up of waste it brings in its wake. And since we are too blinded by desire to notice our droppings, a few foresightful souls have made it their mission to remind us of it. "We must respect our waste pickers as they are our heroes. If not for them, we all would have been living under a big mountain of garbage," states Ribhu Vohra. Ribhu Vohra and Chandrah Nusselein from Auroville initiated Garbology 101 in January 2010 to address the acute problem of waste management in our country. Created by WasteLess, a social enterprise initiated by Chandrah and Ribhu in the international city of Auroville, Garbology 101 is a pedagogical approach towards waste awareness and systemic change. "For society, waste has the lowest priority when it comes to environment conservation. It is not managed properly. In most households it is mixed and thus it smells, making it repulsive to handle," says Chandrah, who has developed recommendations for short- and long-term changes and programmes in solid waste management, including an innovative litter-free campaign. She also ran a project for the development of biomedical waste improvements for rural health clinics. "When we don't segregate our waste and dump it in one bin, then this mixed waste becomes useless as it cannot be recycled and reused. Thus organic waste, instead of becoming a resource, becomes a pollutant," she adds. "The need of the hour is to create awareness about proper waste segregation and waste management," adds Ribhu, who joined Chandrah three years back to work at WasteLess. Together, they came up with Garbology 101. Ribhu, who was born and brought up in Auroville just like Chandrah, is devoted to improving local conditions.
| | | |
| --- | --- | --- |
| | | |
| | Garbology 101 was started with three pilot schools with course material for classes one to six in October 2012 | |
| | | |
He committed himself to waste-related issues, beginning with an innovative litter-free campaign targeting children. For over two years, he has been working on grassroots waste management improvement projects with residents and local government researching innovative and sustainable means to increasing resource recovery from waste. Ribhu says, "Our main aim is to create awareness about waste management. I was conducting a talk on this issue among a group of children and asked them what waste is. A 13-year-old supplied me with an amazing answer. She said that waste is the stuff we have lost interest in. How true! We go and buy a phone. Then some other updated version comes out in the market or the one we have starts giving us problems. So what do we do? We simply dump it without giving a thought to what next. We need a shift in our thinking. We should buy when we need, not when we want," he suggests. According to a survey, an average Indian produces 420 grams of waste per day. In its entirety, India produces around five lakh tonnes of waste out of which 94 per cent goes to the dump. Only 5 per cent is composed and merely 1 per cent is recycled, though around 50 per cent of this waste can be composed. "The leading global strategy for responsible waste management is called the waste hierarchy and rates six steps from most environmentally friendly to least environmentally friendly: avoidance, reduction, reuse, recycling, energy recovery and landfill. In Canada, the most preferred method is avoidance which is the most environment favoured option. Sadly in India, waste is disposed of by landfill," mourns Ribhu.

Chandrah Nusselein introducing school kids to Garbology
According to Chandrah, "Our dream is to make people aware about proper waste segregation. We have proposed 11 waste categories – organic, paper, glass, broken glass, medical – in Garbology 101. But for now, we would be happy if people segregated their waste at least in two bins – organic and inorganic. Our objective is to change 'unconsciously wrong' behavior to 'unconsciously right' behavior." And what better way to inculcate the 'unconsciously right' behavior than by working on our kids? Garbology 101 was started with three pilot schools with course material for classes one to six in October 2012. "We wanted to engage children, that is why we have given it this name. We named it on the lines of biology, or zoology and suffixed 101 indicating hundred and one different activities focussing waste management and awareness, consumerism and resource conservation proposed in the 400-page guidebook for teachers," shares Ribhu. Garbology 101 is a subject on environment replete with a tutorial kit and a well-chalkedout curriculum. The kit contains a guide for teachers, along with student cards, handouts, games and other materials for children. It was designed for and introduced to 18 schools in and around Auroville, including government as well as public schools. Recently, the team has been working to adapt the materials for schools outside Auroville. Arsha Vidya Mandir, a CBSE-affiliated school, is the first school to introduce Garbology 101 into their curriculum. They conduct regular environmental classes for classes one to eight and are the star campaigner for Garbology 101. WasteLess is looking to spread this innovative curriculum and improved waste management to many more schools across the country. "We invite schools to come up with suggestions on how they would like to conduct an awareness campaign in their premises. We suggest guidelines and assist them with brainstorming activities, but they design their own campaigns," chips in Chandrah. Apart from this, they also run litter-free campaigns from time to time that constitute street clean-ups, plays, and exhibitions. The most popular event, though, has to be the 'Trashion' show – a fashion show with a twist where models walked the ramp with dresses and accessories made up of discarded goods like CDs, tetra packs, cartons, plastic sheets, plastic bottles, and newspapers. Another exciting endeavour was street clean-up where around 1,500 students from 17 schools in and around Auroville cleaned the streets and formed 'Mount Rubbish', to be later segregated in different categories and disposed of by the WasteLess team. "We strive to organise events and activities which result in something tangible. This makes the whole process exciting and motivational for children. We have had exhibitions of the artifacts made out of trash, by children where they made table lamps, baskets and other knick knacks. Children show these things to their parents and that creates more support and involvement from parents, helping to increase consciousness," shares Chandrah. Not only that, they also conduct waste audits in schools, offices and organisations where they study waste composition and suggest ways to segregate and improve waste management. "We also urge everyone to curb their consumerist streak and buy intelligently. For example, we urge schools to use more environmentally friendly paper which uses sustainable pulp sources and uses cleaner manufacturing processes. This way, we can reduce energy wastage too," she adds. "We are developing a simple card game with the aim of spreading awareness on waste segregation and its importance. We hope to inspire more people to bring their recyclables to the kabadiwalahs. This should be ready by 2013 end," supplies Ribhu. Changing the world one piece of garbage at a time, as their motto says, Ribhu and Chandrah have come a long way since inception and are taking their initiative forward with much aplomb. Guess it's high time we the people began to talk trash. See more articles on Personal Growth :
http://www.lifepositive.com/Articles/PersonalGrowth