Life - Where love lies...
by Megha Bajaj
What you see is what you believe, says Megha Bajaj. So if you believe in a love-filled world, that is what you will experience

Download PDF Format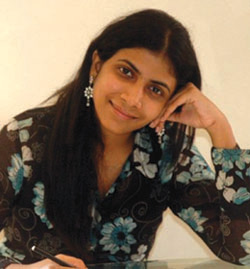 Megha is, above all, a seeker. These days she
is attempting to find herself in the role of a teacher
through the online writing course designed by her.
You can know more about her on
http://www.wonderofwords.org No matter who we are, and what we have achieved in life – at the end of the day each one of us wants to come home to someone who loves us, someone we can love. It could be a spouse, a parent, a friend, a cat, a plant – but the hunger, the deepest yearning of human life is to love and be loved, isn't it?

And yet, I wondered, why do we so often find ourselves without love? Has the world really become a bad place to live in… is there a lack of love… has something changed over the years? As I asked this of myself, I was walking down the green lane that takes me home. On the way, I saw an old lady lending her hand to an even older looking man and helping him walk. A stick in one hand, and the lady's hand in the other – the grey-haired man wobbled ahead with a smile on his face.

Just a little further, I saw a father carrying his infant in the baby pouch strapped across his chest. His tall, well-built frame was such a beautiful contrast to the little girl swathed in pink that I couldn't help but smile. The child was sleeping – with no care for the world – as though she was in the safest place that there ever was. For her, it probably was.

Somehow, no matter where I looked that day – all I could see was love. A boy with his puppy – a mother with her mother – a grandfather with his granddaughter.
| | | |
| --- | --- | --- |
| | | |
| | Even when things seem awry in the world – somehow you will find love here, there… somewhere – hanging on precariously | |
| | | |
There was touch, there was warmth, there was
compassion
and yes, there certainly was love. In that instant, I realised something very profound about life. Each of us finds exactly what we are looking for… and this law has no exceptions.
For a person who believes that the world is a very miserable place, indeed, all he finds, no matter where he looks, is miserable people. For a person who believes there is a lot of hatred in the world – because his eyes are trained to see hatred – all he sees are people filled with hatred. For a policeman, everyone is a potential criminal. For a teacher, everyone is a potential student. For the first time, I realised that life, in all its glory – was something completely different to each one of us. To one it was hell, to another, the same
life
was pure heaven. And strangely, it had nothing to do with the situation they were in… rather it had everything to do with the way they saw the situation. After all, haven't you met people who seem to have everything in
life
and yet are extremely unhappy, and on the other hand – seen kids on the road, with just one shirt on their backs yet know how to laugh and make the most of everything? Does
love
exist in the world? I realised that this question was redundant. The actual question was – are you able to see the
love
that exists in the world? Finding love, then, becomes your responsibility. If you can cue yourself into it, no matter where you look, it will be yours to behold. Even when things seem awry in the world – somehow you will find
love
– here, there… somewhere – hanging on precariously.
Love lies in the eyes of the beholder. There are those who see
love
wherever they look. In the tiny sapling that burst forth with all its might. In the wrinkled hands of a mother. In the crescent moon. My endeavour, from now on, will be to see
love
– to find
love
– wherever I look. Excited!
See more articles on
Life
:
http://www.lifepositive.com/Articles/Life